Following the success of Bullhorn Engage London last week- where over 1000 recruiting and staffing professionals joined forces to network, learn and create opportunities – here are my three key takeaways from the UK's recruitment event of the year.
FIGURES AT GLANCE
Generated a weekly hit list of contractor renewals.
Increased bi-annual client reviews to bi-monthly.
Submittal to interview ratios increased by 20%
Redeployment rate increased by 134% and churn dropped by 8% YoY in Q4
Reduced time from 'submittal' to 'client submittal' by 8 hours
Saved an estimated 5 – 10 hours per person in reporting and CRM use.
My Top Three Engage Keynotes
Baroness Karren Brady CBE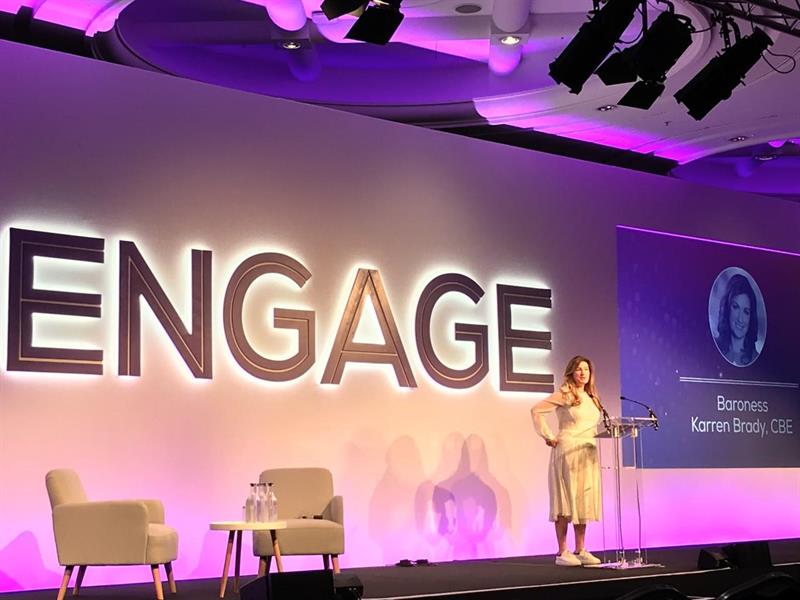 Brady set the standard for the day with an inspiring and motivating opening keynote. She walked us through her career, and through the challenges, she faced being a female in a male-dominated industry.
"You'll have to be twice as good as the men to be seen as half as good."
This is what she was told aged 23 – when she took over Birmingham City Football Club in 1993.
She is now an accomplished sporting executive, politician, television personality, newspaper columnist, author, and novelist.
Following her impressive career timeline, Brady broke her message down into 6 simple keys to success:
Leadership. A vision – with no correlation to management. "A real leader faces the music even if he doesn't like the tune".
Ambition. Here Brady praised Lord Sugar, who despite his self-built empire, continues to be the first person in the office, and the last one to leave.
Determination. The ability to pick yourself back up when you face difficulty. Bouncing back after failure is vital to success.
Attitude. Brady has a 19-year-old shop assistant earning £19,000 a year and a 19-year-old football player earning £19,000 a week. Whilst their earning potential will never meet, Brady creates a work environment that values both parties contributions equally.
Direction. "The whole world steps aside for those who know where they're going. You can't change where you start, you start where you start, but it's where you finish that you can control".
Positivity. You must always seek to retain a positive outlook yourself, and encourage it in your team. Success lies in hanging on when everyone else has let go.
Art Papas – CEO & Founder of Bullhorn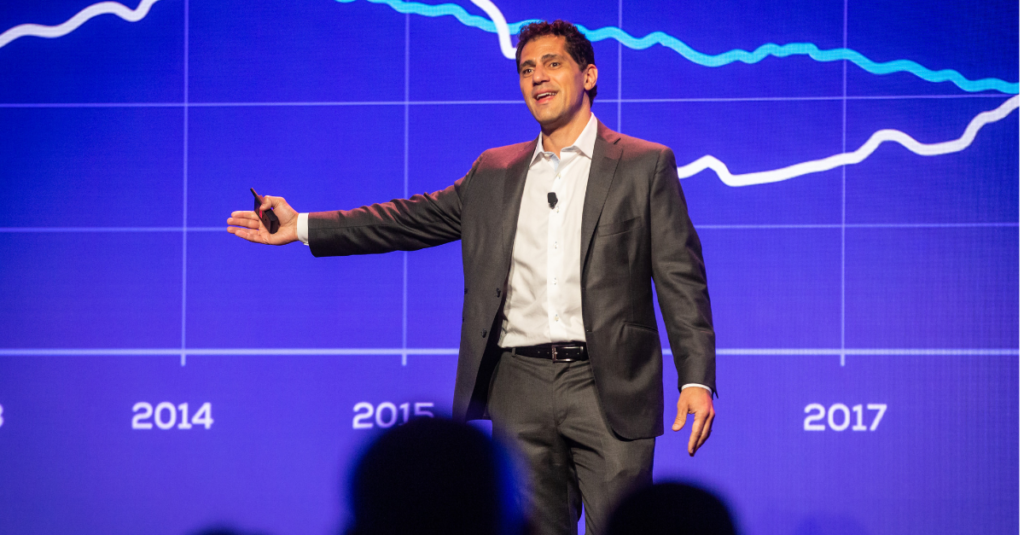 Art Papas kicked off day 2 of Engage with his opening keynote, celebrating the 20th anniversary of Bullhorn and the 10th anniversary of Bullhorn International.
Papas went on to discuss how the demise of the recruitment industry had been predicted several times, each time as a result of a technology advancement; job boards, vendor management portals and LinkedIn to name a few – yet the sector continues to grow.
Bullhorn's Founder moved on to project his predictions for the future of the industry. By 2030 he believes that artificial intelligence will complete;
Sourcing
Screening
Scheduling
Reference checking
Background checks
The insight was drawn to a close with Papas questioning what advice you could take from your future self;
With regulation comes opportunity.
Stop telling people to pick up the phone. Engagement is digital.
Exploring new technologies is YOUR job. If you are not implementing new tech every six months, you'll get behind – because your competitors are.
Pay close attention to digital staffing platforms.
Computers are still horrible matchmakers.
Dr Marcia Goddard – The Science of Stress: Cultivating Recruiting Resilience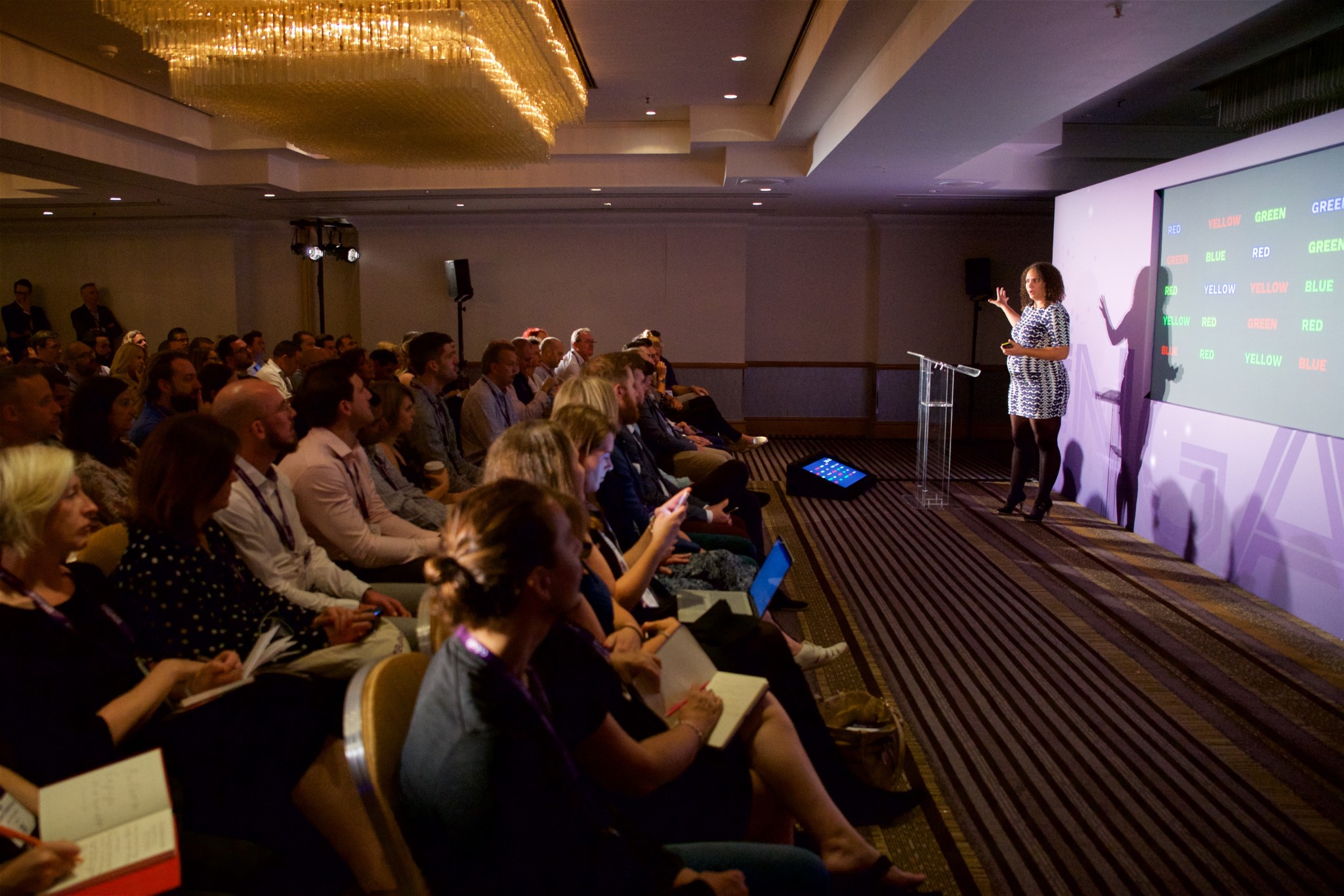 Goddard, famed neuroscientist and recruitment expert returned to Engage London and delivered an educational keynote on the science of stress.
"Situations don't cause you stress; it is your perception of what is occurring that causes the reaction in your body known as stress".
Following a clip from a Formula 1 race where Max Verstappen and his team faced difficulty and overcame boundaries together to result in a win, Goddard spoke about how teams can navigate stressful situations to build team resilience.
Essentially this boils down to;
Regular constructive feedback
Listening to understand, not to speak.
Seeing vulnerability as a quality, not a pitfall.
In her own words "Admitting you don't know something, need help or are wrong is a sign of strength – not weakness."
The Biggest Emerging Trend
A key theme throughout Engage was the emergence of artificial intelligence (AI).
Bullhorn's Dominic Herbert challenged whether AI systems make for inclusive or exclusive hiring processes during one session (AI is proven to be 40% less diverse than humans).
During the 'Artificial Intelligence and the Human Impact' break-out session, featuring panelist Matt Doucette from Facebook, the looming threat of AI replacing humans was discussed.
The panel noted that "although 47% of jobs will be automated by 2035, it is not yet seen possible for AI to replace decision-making tasks".
The Future of Bullhorn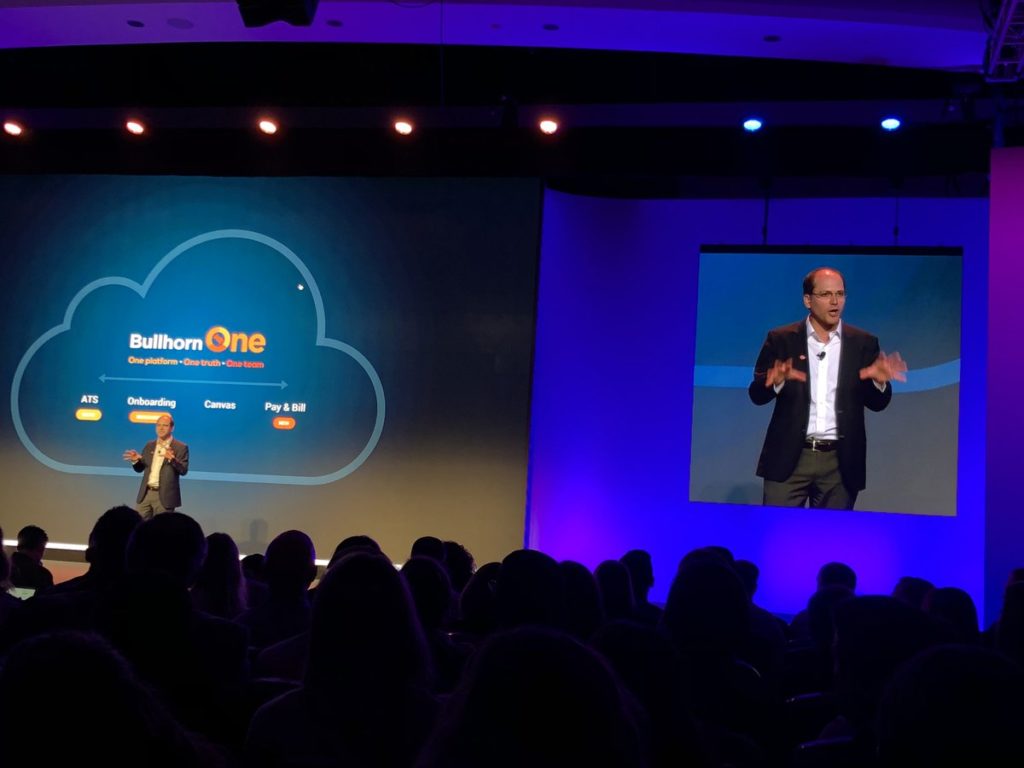 Bullhorn has historically solved recruitment company challenges with front office solutions – focusing on CRM and ATS.
Matt Fischer, President, and CTO spoke during the Vision for Innovation keynote about the realisation of a front to back solution – enabling recruitment agencies to Run As One; Sales, Recruit, Onboard, and Pay & Bill.
Guest speakers joined Fischer on stage and highlighted both technology solutions available today such as Mobile and Onboarding as well as future solutions (currently available in North America) such as Pay & Bill.
Fischer closed the session turning to artificial intelligence, explaining the investment Bullhorn has already made into this fast-evolving area.
"The key is not the AI technology itself but to find a compelling use case."
Fischer explained that he believed a key use-case for AI with the sector was to capitalise on the redeployment of contract or temporary labour.
At cube19, we have already made significant steps to address the contractor redeployment rate challenge. Actionable Insights does just that – so why not take a cube19 demo?
–
On a closing note, this was my first ever Bullhorn Engage and my first ever blog post for cube19.
I hope you enjoyed it.