cube19 was recently awarded 'High Performer', 'Easiest To Use' and 'Best Support' in the Summer 2020 G2 Crowd Review Awards.
G2 Crowd is the largest and most popular marketplace for business software, and its annual rankings are based on reviews by hundreds of thousands of users from all kinds of businesses. With the highest traffic and engagement, largest selection of products and services, and highest quality data, G2 Crowd is able to harness more than 4 million data points to determine which products and companies are doing the best job of helping businesses reach their potential.
cube19 collects a number of awards in the G2 Staffing Technology sector

Our customers say it best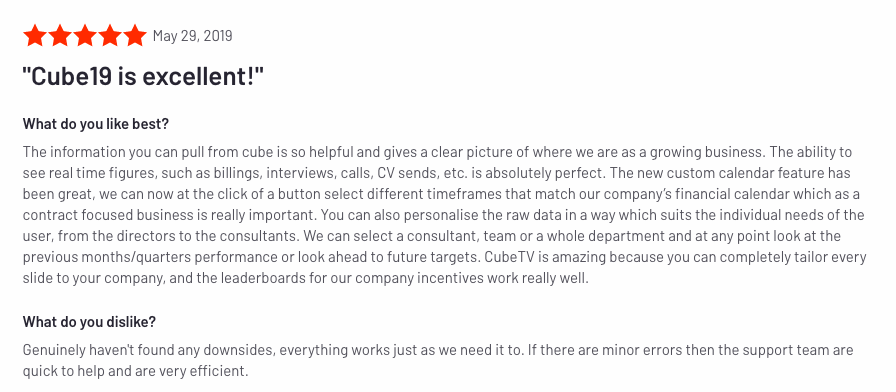 Read more of our G2 Crowd reviews here.
A message from us…
"These awards are so important to us because they come from the people whose opinion matters the most, our customers. Winning in the Easiest to Use and Best Support categories for staffing technology is particularly satisfying because our product and customer success teams spend their days thinking about how to make recruiters' lives easier. Because customer feedback is such an integral part of being able to provide a top-notch service these awards are as much for our customers as they are for us. It's also fair to say that after what everyone has been through in the last few months, recognition like this means even more than usual so my congratulations and thanks to the whole team at cube19."

Dan McGuire, CEO
"I'm so pleased that the team has been recognised for the passion and effort they put in to support our customers. Whatever stage of the journey they are at in terms of building a data-driven culture, the cube19 Customer Success team has the technical and operational expertise to guide our customers forward. From implementation through to technical support every member of the team has a genuine desire to provide an exceptional level of service, and we believe that this not only complements what is an outstanding product, it adds a whole new dimension of value."

Andy Hill, Head of Customer Success
Why choose cube19?
At our core, cube19 helps recruitment businesses to grow revenue through the power of data and actionable insights.

Leveraging the cube19 Growth Analytics Platform, customers can drill into any company performance metric, unlock revenue opportunities and mitigate risks in real-time, on any device.

Recruitment companies trust cube19 to optimise their two greatest assets – their people and their data. We do this by delivering simple to understand actionable insights that show every member of staff, from C-Suite to consultant, how to make more placements.
To see for yourself why our customers love us, sign up for a product demo here.