I had the pleasure of attending my second Bullhorn Engage, this time in Sydney, where 400 recruitment professionals joined to network, explore new technologies and hear thought-provoking and cutting-edge content. Here's my recap of the day.
Women in Leadership Breakfast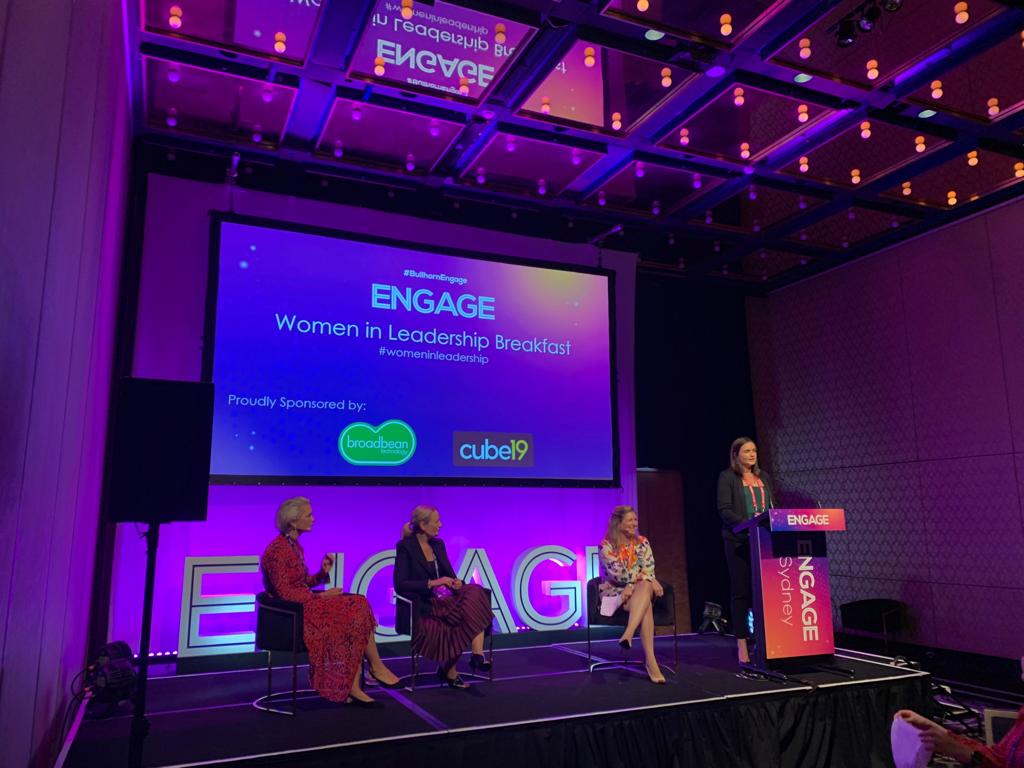 The day kicked off with the Women in Leadership breakfast sponsored by cube19 and Broadbean. This event was held in honor of International Women's Day on 8th March and followed the theme of #EachForEqual. The panel was led by Bullhorns VP of Marketing, Catherine Carangelo who questioned Suzie McInerney, Six Degrees CEO and Jacqui Wightman, COO of Davidson Group, on their experience as women in leadership roles.
The panel focused on sharing experiences and advice drawn from their journey to where they are now. My favourite piece of advice was from Suzie McInerney, 'Be comfortable with feeling uncomfortable'.
The session then broke out into 8 round table discussions led by a selection of powerful women in the industry, including cube19's Jodie Rickett. Exploring the #EachForEqual theme by taking a deeper look into stereotypes, unconscious bias, and diversity.
Jeff Neumann: Opening Keynote
Jeff Neumann, VP of Product Marketing at Bullhorn, then took the stage for the opening keynote which took us through the past, present and future of the recruitment industry. He broke his session into 4 acts.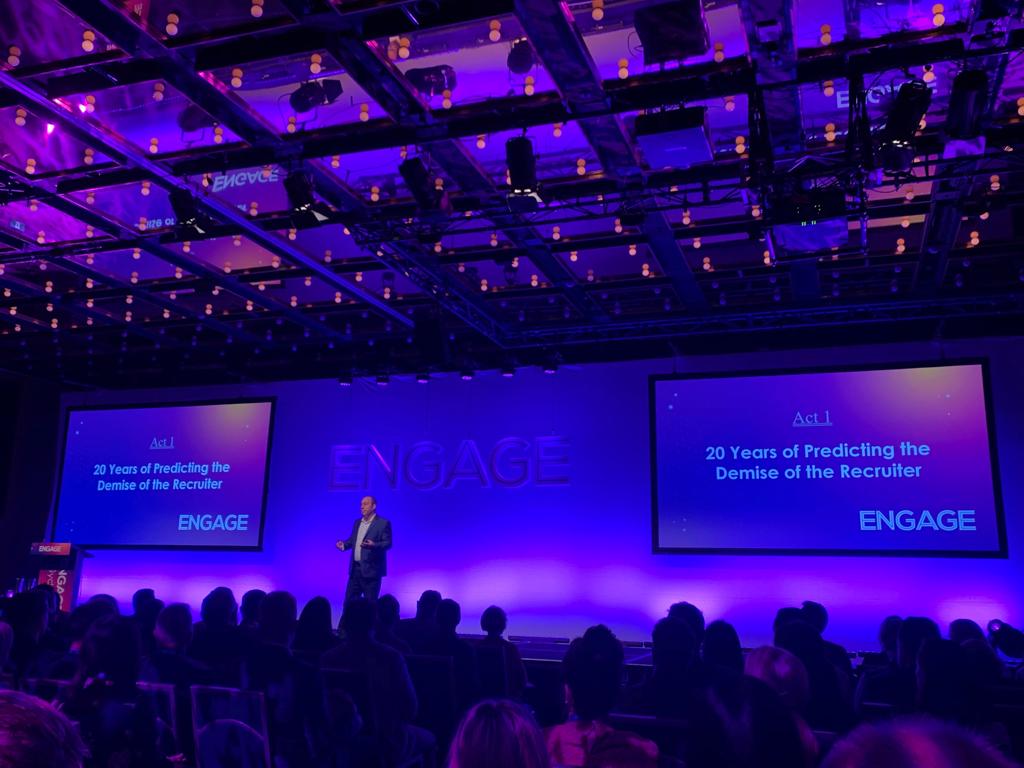 Act 1: 20 years of predicting the demise of the recruiter
Neumann took us through the history of industry scares when new tech was developed, as it was said that they would replace the recruiter, from job boards to VMS to LinkedIn all the way to the current 'threat' of AI/robots.
It's no secret that robots can perform most jobs better, faster and with fewer mistakes – but just like all the times before, this won't be the end.
Bullhorn Engage highlighted the amazing power of people. We adapt, we change, we have the power to overcome!
Act 2: Predictions for 2030
Today, despite the fear in the past, we are embracing technology in everything we do, welcoming Siri and Alexa into our homes. 
We must have the same attitude in our work lives. AI won't replace recruiters, but recruiters must use tech to improve their practice and adopt new solutions to help them remain focused on developing relationships.
Act 3: Advice from your future self
"With regulation comes opportunity"
"Your competitors will invest in technology"
"Exploring new technologies is YOUR job"
"Embrace automation to differentiate yourself"
Act 4: Fuelling your growth in a sea of change
Bullhorn has recently acquired Tempbuddy and Herefish and Neumann passionately spoke on the adoption of these solutions into Bullhorn.
Tempbuddy can add shifts into the job record – reverse engineer and search for a job based on a candidate's availability as well as sending opportunities to candidates via text.
Herefish enables recruitment workflow automation in Bullhorn. It lets you gain efficiencies on all your admin tasks, enabling your recruiters to focus on building relationships with candidates and clients.
The keynote concluded with a shocking figure, in 2019 there were 102,887,321 automated actions performed in Bullhorn and Salesforce. That's 102,887,321 actions that didn't have to be performed manually. If you're not automating your system, you're going to fall behind.
Marketplace Speed Pitch
The Marketplace Speed Pitch is the delegate's chance to hear about the latest and greatest solutions available in the Bullhorn Marketplace. Jodie Rickett took to the stage for her 2-minute pitch on cube19.
She questioned how many people could tell her what the weather would be tomorrow, or how many steps they'd taken that day, but couldn't tell her how many interviews their company has pending or what their current contractor redeployment rate is.
"Cube19 is the global leader in Growth Analytics and allows you to analyse real-time data across your recruiters, clients, candidates and jobs faster and smarter than any other solution."

Jodie Rickett, cube19
We increase GP per head by 32%
By delivering 'Actionable Insights' to show the fastest route to cash
Whilst driving amazing Bullhorn adoption and data quality
The Platform Track and the People Track
The sessions then broke off into two tracks, the Platform Track, and the People Track. The Platform Track explored maximising your Bullhorn investment, understanding the AI landscape and setting your business apart with cutting edge technologies. Meanwhile, the People Track explored threats and opportunities in the recruitment industry, scaling with a high impact marketing strategy and finally, maintaining a strong company culture.

The APAC Recruitment Industry Landscape: Threats & Opportunities
On the first People Track session Rod Hore, Director at HHMC Global led an expert panel made up of Lesley Horsburgh, Managing Director at APSCo Australia, Charles Cameron, CEO of RSCA and Florian Dehne, Director of Strategy, ANZ, SEEK.
The panel discussed both local and global issues we're facing as well as the panelist's predictions for what they feel will affect the industry in the near future. 
Charles Cameron is also a board member at the World Employment Confederation so his insights into current global strategies were called upon. He said the current focus was around:
Digitalisation and we how to deal with that
Taking a closer look at how we are inclusive with AI
How the industry can become more sustainable.
Lesley Horsburgh advised attendees to understand what their clients are doing and keep up. Always see the opportunity in change and think as a consumer market.
Florian Dehne stated that tech is changing the activities a recruiter does – that's a reality you can embrace or be scared of, but essentially the tools (marketplace) are there to help you. The businesses that choose to embrace and accept new tech and tools are the ones that succeed.
Setting Your Business Apart with Cutting-Edge Technologies
The final session on the Platform Track was led by Regional VP of Enterprise Sales at Bullhorn, Matt Webster with panelists Ephram Stephenson, Founder, Kona & Co alongside cube19 customers Grant Beggs, MD, Prestige Staffing and Tyson McNeilly, Director and Co-Founder, Fuse Recruitment.
This session was heavily focused on the current Bullhorn Marketplace and how the panelists use their unique tech stack to thrive and 'set their business apart'.
cube19 was lucky enough to get a few mentions and recommendations throughout the session.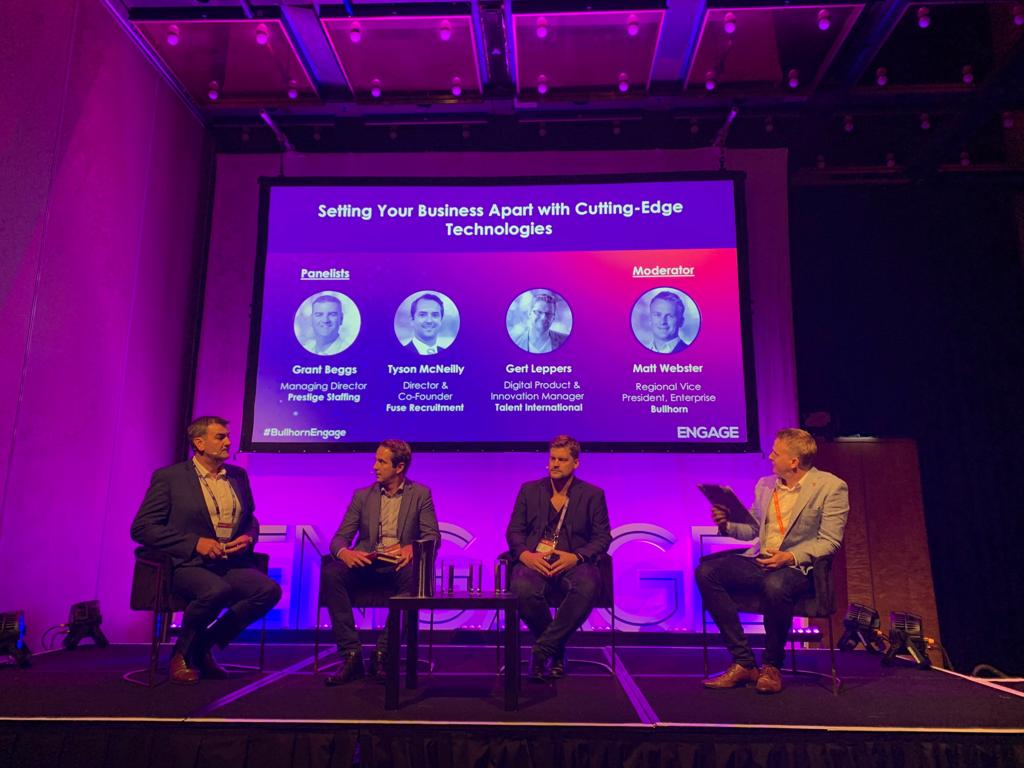 'cube19 was transformational for the business. It meant that consultants wanted to put data into the system, and use it.'
'Out of all our solutions cube19 has had the largest impact on the business.'

Tyson McNeilly, Fuse Recruitment
The panel encouraged everyone to discover new tech add ons, it's everyone's business to explore new solutions, including your consultants.

Janine Allis: Closing Keynote
Janine Allis took the stage for the closing keynote. Allis grew her juice and smoothie empire from her kitchen bench back in 2000. Boost Juice Bars are now in 15 countries and she's since successfully started three new businesses, totaling over 600 stores. She is also the best-selling author of 'The Accidental Entrepreneur', champion contestant on Australian Survivor 2019 and a 'Shark' and mentor on 'Shark Tank'.
Janine took us through her journey to success and stated that, 'What makes someone successful. Not background, not education, not skin colour but GRIT (willingness to work and grind)'.
'Don't blame others for your failures. Own it and then you can start to work through it.'
Finally, Allis shared her 10 lessons from Survivor:
At some point you just take action 
 Be the Student 
 Don't settle for Mediocracy
Change how you think
You can't fake it (be truly customer-led) 
7 most expensive words in business – 'We've always done it that way'
You have to fail to succeed 
Scare yourself a little. 
Be kind to yourself. Give yourself a break! 
Just Say YES
The end of the amazing event was celebrated at the Ivy Sunroom with the Official Engage After Party, sponsored by cube19. Massive thanks to everyone who attended, it was one to remember!