EngageX Europe 2020, the online experience, saw hundreds of staffing and recruiting professionals connect virtually to network, learn, and discuss current challenges and opportunities.
In true Engage style, despite the virtual shift, we experienced a full day of content built around maximising your Bullhorn investment and the broader ecosystem. If you want to catch up on some of the highlights, read on.
Vision for Innovation
As always the Vision for Innovation provided insight into Bullhorn's roadmap and aspirational advancements in Bullhorn's product lineup to help customers drive better engagement, productivity, and growth. Matt Fischer, President and CTO of Bullhorn shared Bullhorn's strategic vision for helping companies continue to innovate, differentiate, and stay ahead of the competition.
Changes in the market are impacting our need to approach recruitment differently. It's imperative for staffing agencies to focus on automation in order to prevent being left behind. Candidates are looking for simplicity and responsiveness, with a human touch at the right time. Meanwhile, clients are looking for agencies to deliver a combination of service flexibility and scale to meet their needs.
There has been an influx in online staffing platforms, but the reality is that 2/3rds of the market still wants to work directly with staffing agencies. However, online platforms are representing a growing threat to staffing agencies that simply cannot be ignored.
Client expectations are changing, 66% of customers use online staffing platforms today and 67% of buyers are planning on self-sourcing within the next two years. In this session Bullhorn focused on arming recruiters with a talk track of why clients should choose themselves over an online platform. A large focus of this surrounds providing an experience with the candidate which is automated and mobile, whilst including the human touch. So recruiters are providing both high touch and high tech.
To summarise, Matt shared what he thinks success should look like in the current climate:
Improved candidate acquisition and redeployment rates. Do more with the talent you have in your database.
Increased productivity and retention through the power of automation. Using solutions like Herefish, your recruiters are focused on building and maintaining relationships whilst delegating repetitive tasks that nobody has time for.
Frictionless candidate experience. Using Bullhorn connect allows for a better, branded experience that will increase adoption, engagement and brand loyalty so you can leverage a combination of SMS, web and native mobile components to deliver this cohesive experience and meet the candidate's needs.
A combination of these tools helps you to transform and future proof your business against self-sourcing and competitive threats whilst enabling you to do more with less.
When you connect automation with a frictionless candidate experience you can deliver a sustainable client experience and increase your value, all through the human touch.
The Power of Automation and How Can It Help You Prepare for 2021
Chris Dues, Director of Sales & Strategy at Herefish by Bullhorn led this panel of recruitment experts including Brian Cunningham, Managing Director, Allen Recruitment, alongside cube19 customers Shayne Simpson, Operations Director at TechNET and Adam Clements, Managing Director at Freshminds.
The panel shared their own experiences implementing automation into their businesses and highlighted the ways in which automating processes allowed for driving stronger candidate and client engagement, maintaining data health, and removing busywork from the day-to-day.
"Salespeople are not great at admin. So why not automate the admin and let them do deals."

Shayne Simpson
The panel shared what their businesses automation strategy is. Adam stated that he is 'completely addicted to cube19 and needs therapy!'.
Shayne also added that 'cube19 is phenomenal!'.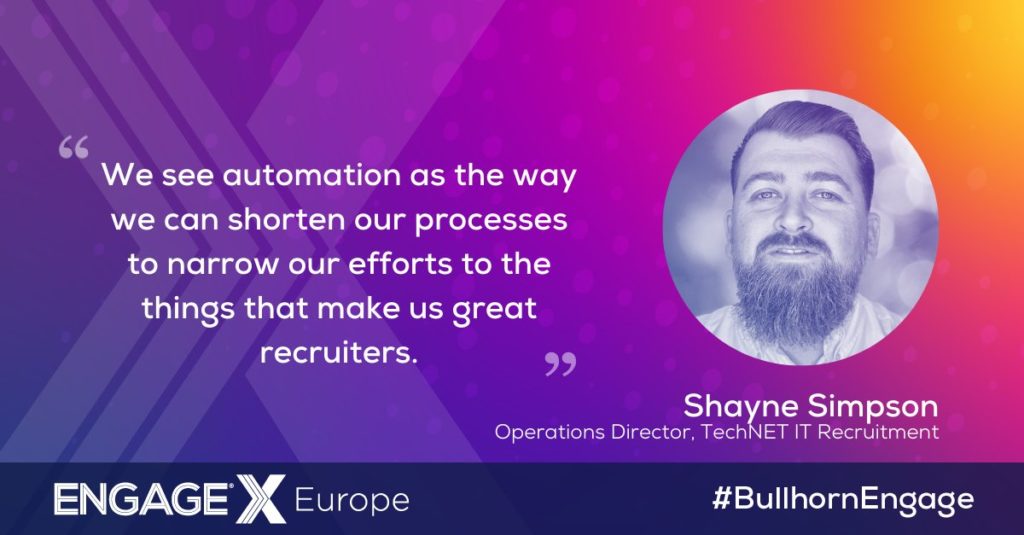 Chris asked if the panel would recommend hiring a data manager to handle their tech stack, Shayne responded no, he believes it's counter-intuitive as automation for him is about narrowing his efforts and costs. Shayne manages all of his marketplace partners including cube19 easily through Bullhorn, without the need for a dedicated manager.
What Metrics Should We Really Be Measuring? How to Leverage Actionable Data from Your Marketplace Tech Stack
cube19 CEO and founder, Dan McGuire, led this roundtable discussing how Bullhorn customers can use the data generated by their Marketplace Tech Stack to help their people become more effective, efficient and productive.
In short, Dan shared:
How to get the maximum value from your fully integrated tech stack.
What you should be measuring and why.
How to create and use actionable data to drive the best possible ROI in tech.
Leadership Recruiting: Trends and Priorities
Simon Mullins, Chief Facilitator of ESIX led this data-driven breakout session sharing the latest trends impacting business and priorities for leadership recruiting based on ESIX's extensive research and insights.
Some key data points include:
Diversity is the highest priority for 37% of firms for the next 12 months, with Talent Pipelining next at 19%.
65% of respondents provide external talent information to the formal corporate succession planning process. E.g. Benchmark data, talent introductions, talent mapping/talent intelligence.
26% are involved with hiring for board member/non-exec director-level roles.
Since 2014 the number of firms using external exec assessment tools has risen from 29% to 68%.
---
As Platinum Global Engage Partners we'd like to thank everyone at Bullhorn for their efforts in keeping us all connected and updated throughout this time. As always, we look forward to the next Engage!