Reflecting on the changing work environment, industry coach and commentator Ross Clennett spoke to the leadership challenges many staffing agencies will face whilst being interviewed by Shortlist on coaching in a crisis. 
With continued uncertainty around what were once energetic sales floors within an agency returning in the near future, how can recruitment leaders coach sales and recruiting teams in the absence of the physical presence which was largely relied on pre-COVID?

Clennet's three step process to coaching in a crisis
The key to success is to be really clear on your expectations as a leader and be sure there is a commitment to deliver them, Clennett says. He goes on to explain his three-step process;
The result the person needs to generate
The activities you expect the person to complete
The behaviour that underpins the culture within your company
Importantly, prioritise efforts on the activities you expect a person to complete. These are controllable; people can't always control the result, too many variables, but they can control the activities they complete. But with more distant working conditions set to stay for the near term, how can leaders spot when the right activities are not being focused on and coach for success?

This is where cube19 comes in. It gives you the ability to visualize every single aspect of the business and monitor your entire team's performance seamlessly. From the day-to-day of your consultants' activity through to the decisions that shape your L&D, your hiring, the clients you work with and the profit you then drive.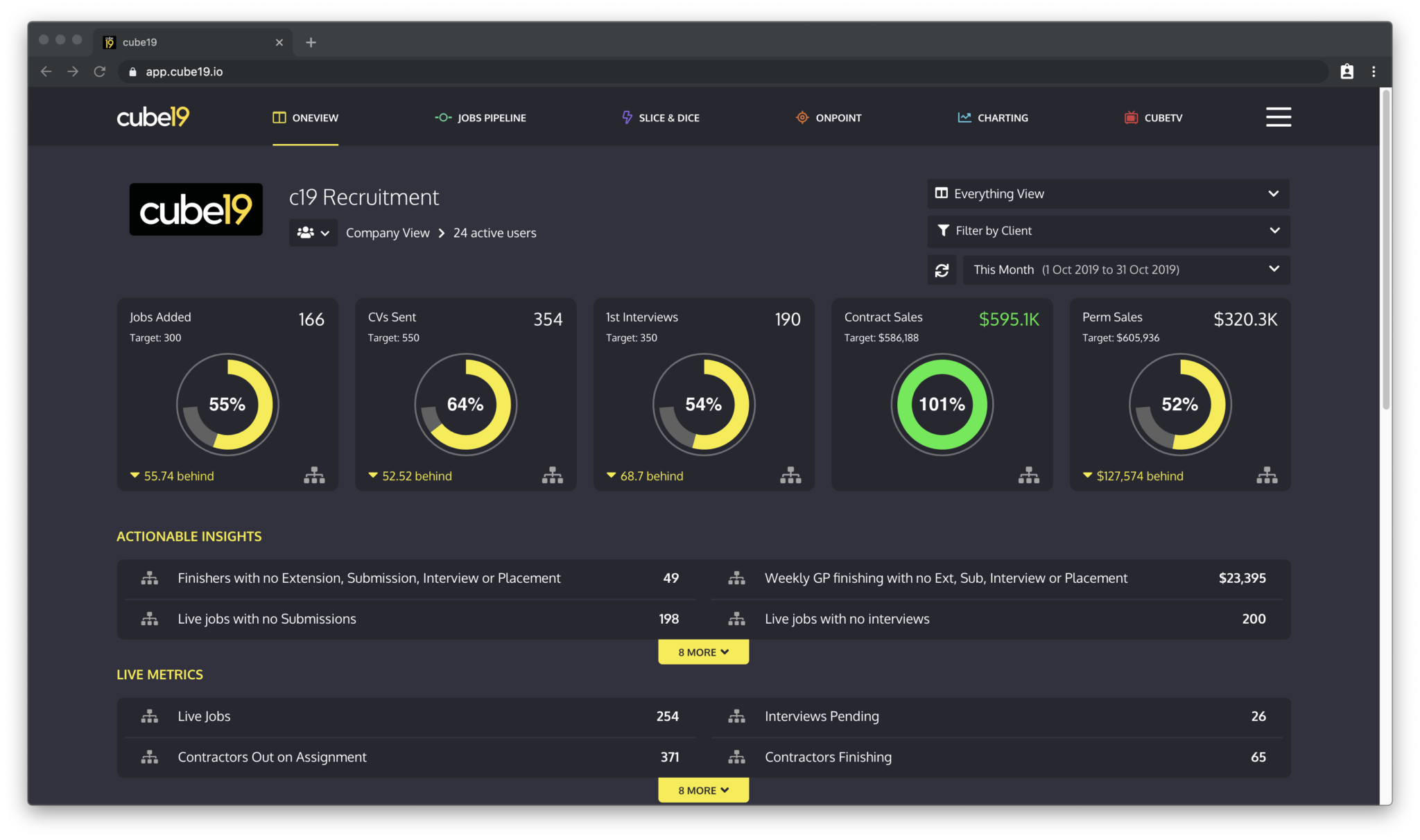 As many of us have adopted a remote work policy for the foreseeable future, which has been a new venture for most, ensuring that you have the technology in place that both assists and motivates your consultants (interactive dashboards), all whilst giving you clear visibility (client analysis), will prove vital in getting through the next period.

cube19 customers are utilising the solution to maintain productivity by having the tools to provide remote coaching and assistance whilst making data-led decisions across each consultant, industry, candidate, client and contractor in these uncertain times.

Clennett goes on to explain in pre-COVID time a recruiter would normally be working 10-15 assignments, all at different stages but the volume of work combined with the physical support of leadership and the team around them helped to guide the next step to drive towards success.

In the current market, with fewer jobs to work on and likely absence of a leader to coach in real-time the challenge becomes driving the process and proven activity to achieve a placement.

cube19 allows recruiters to visualise a pathway to success. Providing a clear outline of the necessary next steps, be it an additional business development call or one more CV send. Activity levels can be monitored by leaders, which not only works to motivate teams but also highlights where exactly progress is lacking, and therefore requires further attention. This ability to access real-time data into which business areas require action on a daily basis is groundbreaking to growth. It's all about optimising your two greatest assets – your people and your data.

cube19 unlocks scientific confidence into precisely what you need to change to achieve your growth objectives.

With all the uncertainties that have been sprung upon us all over the past six months, being unprepared was a reality for many businesses. However, there really is no excuse to not have access to the insight you need to make confident, data-led decisions in the future.

Just like many businesses, cube19 has had to adapt to market changes throughout the pandemic.

That's why we created cubeLite and cubeX to go alongside our classic cubeEnterprise.

Now recruitment agencies of all sizes and stages of maturity can find the right pathway into data with a package that suits them.

After such great feedback from our customers, who have tried and tested the solutions over the past few months whilst coaching in a crisis, we're thrilled to announce that we will now be offering these tiered package options as permanent solutions.

If you're interested in finding out more about how cube19 can assist your business in its management process, productivity and overall growth objectives, then sign up for a demo here.