cubeX
cubeX is a set of fully embedded dashboards in Bullhorn that provide leadership, management and recruiters with real-time performance insights.
"cubeX is well designed, looks great and is easy to use. It's simple to look forward or back at our data to make sure we are on track or to find simple ways to improve our efficiencies. I highly rate it."
Customers that Trust cube19 to Automate Bullhorn Reporting
cubeX is a set of fully embedded automated reporting dashboards for Bullhorn that put data insights at the heart of every decision. With individualised performance dashboards, easy to use comparative reporting and an advanced jobs pipeline analysis toolset, your company can drive performance, uncover opportunities and make faster decisions than ever before.
Pricing starts at £30/user per month.
Uncover Opportunites
Automated insights on client, job and candidate opportunities
Gain certainty that your team is working the most profitable opportunities
Faster
Decisions
Check your business's performance anytime
Quickly spot, triage and resolve problems before it's too late
Drive Performance
Focus each individual on the correct targets and behaviours
Empower your recruiters to stay "on plan"
Uncover opportunities, make faster
decisions and improve performance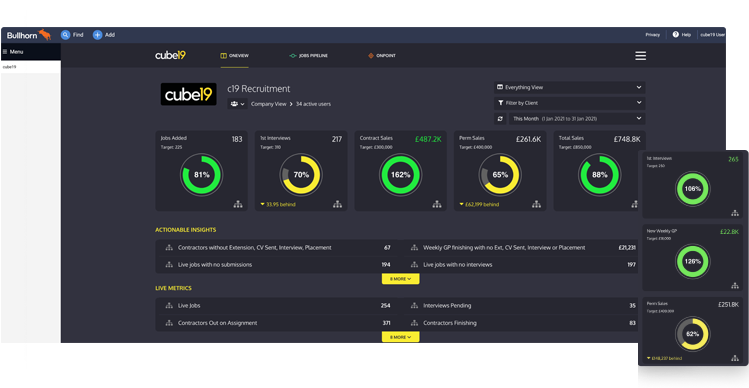 Intuitive dashboards that provide an automated, real-time view of priorities to maximise revenue.
Customise your dashboards with the most important performance metrics for your business
Analyse your business like never before with a choice of real-time Revenue Summary, Activity Summary, Live, Efficiency, Data Quality metrics
Encourage your team to use Bullhorn with automated feedback on their activity and results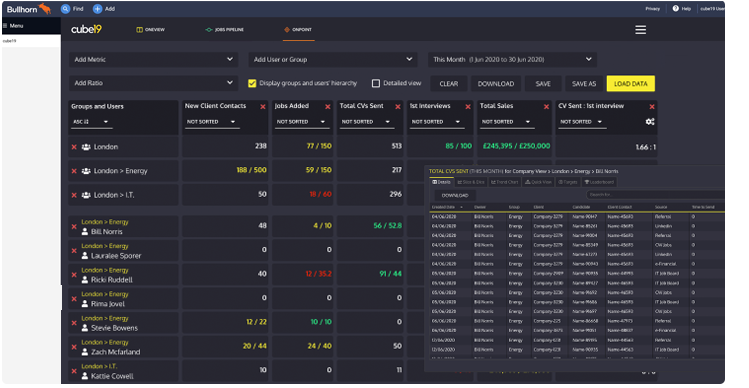 Comparative reporting for offices, teams or individuals
Measure the performance of any office, team or individual against another with unparalleled comparative reporting tools
Centrally manage targets for every employee or team
Create custom ratios like "avg. time to fill v CV's sent" or "contractor ext. rate v fill rate"
See a complete record of every target set and the user or team's performance against it
Now Select Your Third Module
cubeX comes with a choice of JobsPipeline or cubeTV as the third Bullhorn Reporting module.
It's entirely up to you which module you select.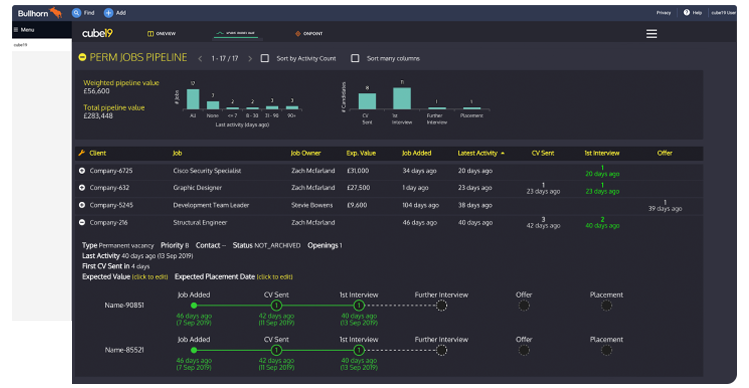 Track the true status of all current and historic jobs in your pipeline by type, stage or status
Total pipeline and bespoke weighted pipeline value update in real-time
A visual, real-time summary of every job gives your recruiters a definitive guide on the next best action to take
Split jobs into sensible pipelines like Perm or Contract to reflect how your business runs
An easily accessible report of all live and closed job activity in one place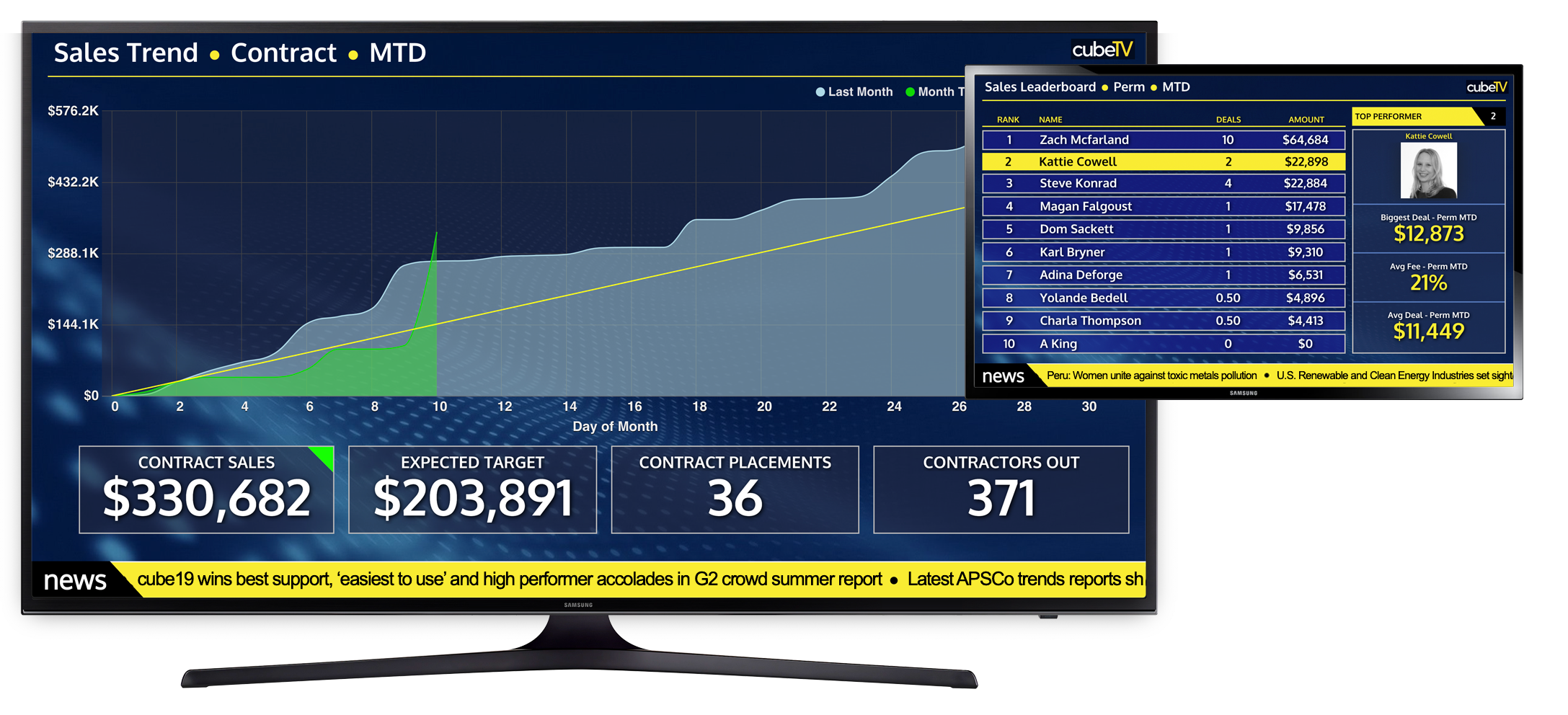 Gamification screens that reward positive behaviour and drive competition
Leaderboards, Deal Flashes & Trend Charts for any metrics broadcasted and updated in real-time
Centralise incentive management
Use Custom slides & videos to promote lunch clubs, holiday incentives or promote internal marketing campaigns
Live video from YouTube & RSS allows you to share the latest news, sports or industry updates
cube19 is a great tool to monitor productivity and performance. It ensures you stay on track with KPI's whilst providing clear and concise data on where you have been successful as well as in areas you can improve. cubeX highlighted the actions I took when successfully placing candidates, which has caused me to adjust my approach and focus more on certain tasks.

Get on the path to automated bullhorn reporting with a quick feature tour.
Take a closer look at how the world's #1 Bullhorn Reporting &
Analytics solution that helps companies of all sizes grow faster.
Book your test drive