cubeLite
16 Real-Time Metrics To Manage Your Remote Workforce and Empower Your Team To Succeed
"cubeLite sits right inside Bullhorn and helps everyone to see what's happening in real-time"
Helping teams to stay productive whilst working remotely is a huge challenge staffing leaders face. To address this need, we've created the leanest, lowest cost version of cube19 that we could possibly imagine. cubeLite is a real-time dashboard exclusively for Bullhorn customers designed to help you manage your team, monitor your clients and run your business from anywhere.
Pricing starts at £15/user per month.
OneView Lite + OnPoint Lite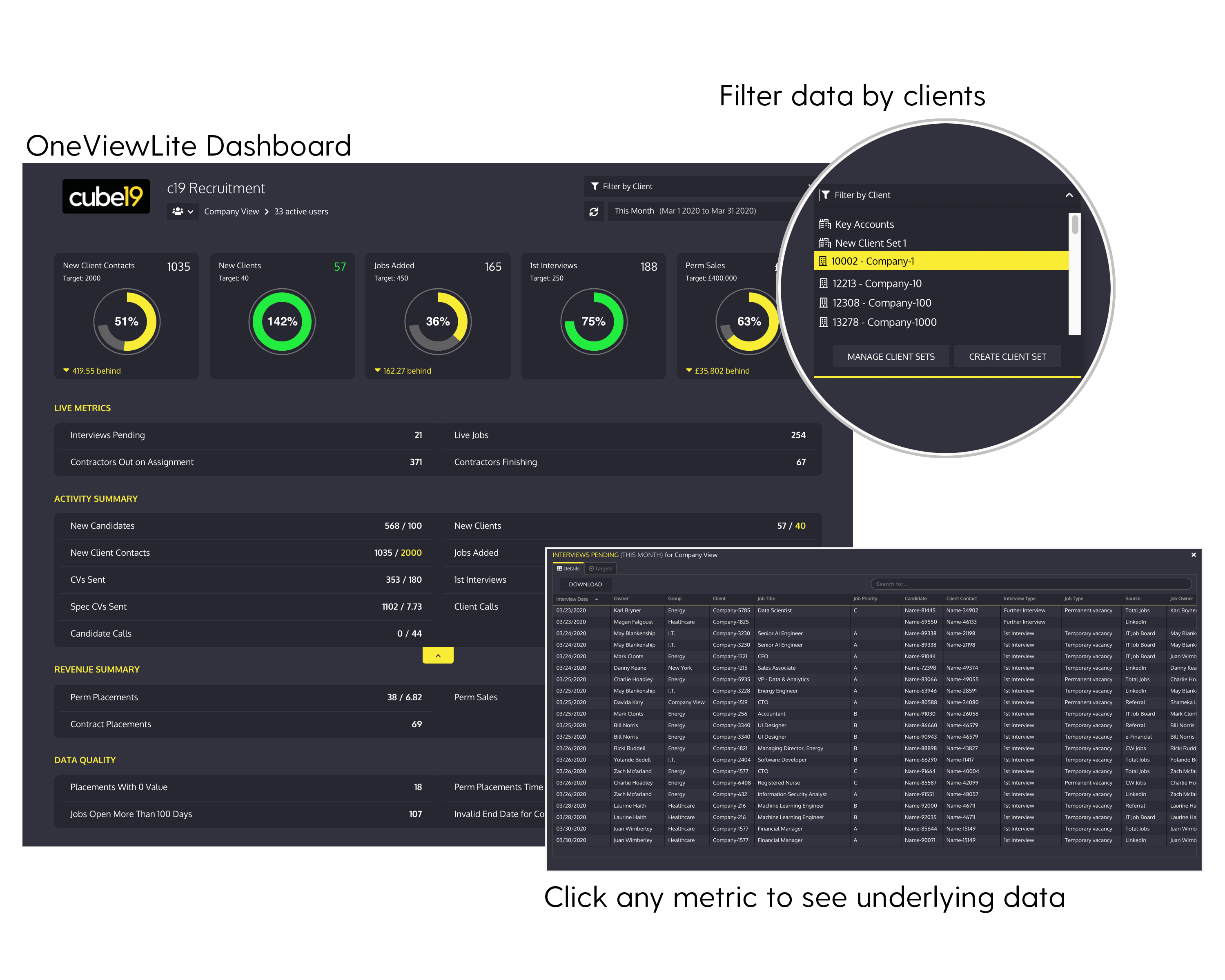 Dashboards that provide an automated, real-time view of set priorities
Remind your team about their most valuable tasks with Priority Metrics
Focus individuals on executing your strategy with Key Metrics
Focus on the right clients to keep your business moving with Client Filters
Quickly access the information you need to coach your team (no matter where they or you are in the world).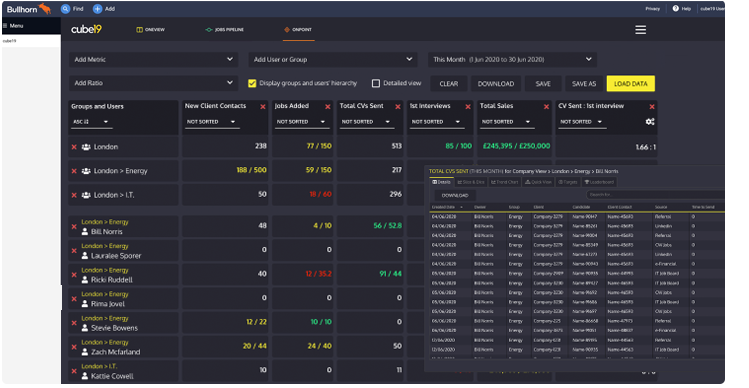 Comparative reporting for offices, teams or individuals
Compare the performance of any office, team or individual against another
Centrally manage targets for every employee or team
See a record of targets set and the user or team's performance against it
How is cubeLite different to cubeX & cubeEnterprise Packages?
Rather than pulling all of your historic data from Bullhorn we are only starting from January 1, 2020
You will not be able to create any company or team hierarchy and will work from a flat team structure
There is no dedicated data checking, data quality consultancy or telephone support. Basic email support will be provided
Features such as Actionable Insights, Trends, Slice & Dice, cubeTV & Jobs Pipeline are not included in cubeLite
Admin access will be limited to basic User Admin Timezones, Targets, Company Settings, and IP Restrictions
Custom Timeframes, individualized OneView Pages, Groups/Teams/Tags, User Team History, Ratios, cubeTV, Actuals Uploads, Jobs Pipeline Admin are not available in cubeLite
There are no Deal Flashes, no music, no news feeds, no trend charts, no Leaderboards
You can't export data from cubeLite to CSV, or upload data from CSV to cubeLite
Metrics provided are standard and cannot be filtered, configured, customized, split/combined, deduplicated or otherwise modified in any way</li >
Additional Bullhorn fields will not be mapped in
No contract revenue metrics including 'Invoiced Actuals' will be provided
We understand that you may have more complex requirements you would like to address that cubeLite doesn't support
When the time is right, you can easily upgrade to cubeX or cubeEnterprise.