A summary of this week's Bullhorn Marketplace webinar, 'Productivity Anywhere, Anytime with the Bullhorn Marketplace' spotlighting cube19, Cloudcall and Daxtra.
What does the world of work look like in 2020?
Before the impact of Covid-19…
159% increase in remote working from 2005 to 2017
Predictions that 25-30% of the workforce will work remotely by 2022
87% of companies cited employee engagement as a top challenge
Following the impact of Covid-19…
Microsoft teams reported an all time high record of 2.7 billion meeting minutes in one day
58% of professional workers are remote
Normal working hours and responsibilities have shifted
We've all accepted that our new remote work set up is a short term solution to combat a pandemic. But what if remote work is here to stay? What does that mean for productivity?
In practice, increases in productivity are realised through time savings from process simplification and automation or repetitive tasks. Equally important to drive consistent gains in productivity is the human angle, considering an engaged workforce, hitting their KPIs.
So what productivity challenges do firms face today?
Challenges faced by Leaders
How do I ensure every member of my team is productive and foster best practices?
How do I improve efficiency and retain visibility?
How do I motivate a remote team whilst promoting cross functional collaboration?
Bullhorn's open ecosystem and the Bullhorn Marketplace of over 100 pre-integrated partners gives customers the toolkit they need to build a unique solution that meets their present needs and future proof their investment.
In an average day at a firm like yours, the recruiter wants to get more done, stay motivated and feel part of a team. While the line manager wants to have visibility into activity, identify best practices and capitalise on foresight of the collective knowledge within their team.
This is where cube19 comes in. Our data analytics platform is specifically designed for recruitment agencies and seamlessly integrates with Bullhorn.
The way in which we are used to motivating our teams has been challenged by this new remote way of work, yet it's still so important for employee job satisfaction, career development, and at a macro level, your entire businesses performance. cube19 is a great solution for businesses looking to motivate their teams while increasing measurable and tangible business gains.
cube19 provides managers visibility into everything their team is doing. Which of course is now proving more useful than ever, as the new norm shifts us to remote work.
With a newly remote team it's really hard for managers to know if their teams are being productive. The cube19 dashboards mean that managers can see their teams' activity and how that's impacting the business, from how many jobs are added, to sales numbers and pipeline.
The dashboards are created using data pulled from Bullhorn, which creates extreme visibility across the board and makes your team accountable for their own data input, which drives continued Bullhorn adoption and therefore increased data quality.
As a manager you can look into activity on an individual consultant level, identifying where things are going wrong and subsequently offering advice and training in the right direction.
By looking at the individual recruiter breakdown, you can unlock the secret into what makes your top performer so successful. How many jobs are they working? How many CVs did they submit? How many interviews are they facilitating? And so on, until you find your perfect ratio of activity to money, which can then be shared to the rest of the team so that they can replicate the technique.
This creates a blueprint for success that you can then use to set up metrics for your other employees with individual targets. These metrics or activities that you need to accomplish will appear as soon as you open Bullhorn and, by using Actionable Insights, you can see which activities you need to prioritise. So you are constantly being delivered proactive information to help you accomplish different goals.
cube19 helps businesses to engage recruiters with their own data and their own performance to help them clearly understand their fastest route to success based on the activity of their top performing colleagues.
Everyone in your team then has the tools to self manage and prioritise their day, in order to become proactive and more productive.
With access to leaderboards that provide insights into how the whole team is performing, the highly competitive recruiter spirit is complimented, creating social motivation, even outside the office!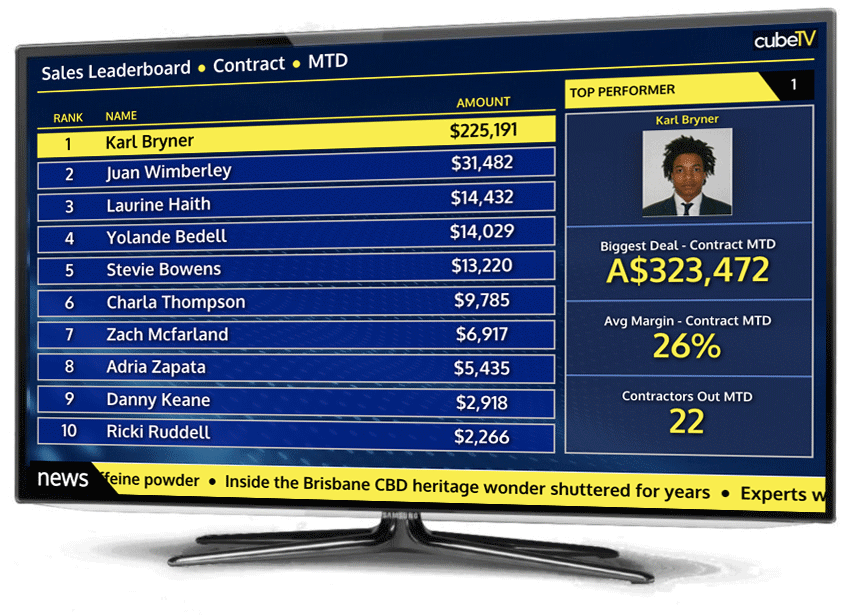 With cube19, business intelligence actually becomes real time and virtually self service.
The ability to slice, dice and filter on the different areas of your business and the applications that are going on in your business, is going to help you to accurately spot the sources of success and failure that are happening in your organisation, so you can start optimising those processes and take appropriate action.
For example, business intelligence can help your marketing team to focus on advertising to those job boards that are actually giving you the greatest return on investment.
This helps management to make informed business decisions based on real time data.
Can you afford to put your digital agenda on hold?
Downturns tend to amplify competitive validity, which means the next downturn is likely to increase the potential risks and rewards of digital disruption even further.
Technological progress will not stop during a downturn, therefore, companies simply cannot afford to put their digital change agendas on hold.