Last month we sat down with Jeff Pierce, Director of Technical Operations at eHire, to talk about how data is being used to make quicker decisions, client accountability, battle cards and the metrics that every agency should move!
FIGURES AT GLANCE
Generated a weekly hit list of contractor renewals.
Increased bi-annual client reviews to bi-monthly.
Submittal to interview ratios increased by 20%
Redeployment rate increased by 134% and churn dropped by 8% YoY in Q4
Reduced time from 'submittal' to 'client submittal' by 8 hours
Saved an estimated 5 – 10 hours per person in reporting and CRM use.
The start of a new decade also marks the tenth anniversary for the US staffing firm and brings plans for expansion with it.
Whether it's a new vertical, office or location – scaling is on the roadmap for eHire – and cube19 is part of the blueprint for achieving that.
"We want to move away from making decisions on feelings in 2020, to making decisions with fact."
"The front runners in the staffing industry will be those that leverage advances in AI, analytics, and automation to do more without simply throwing manpower at it."
"Making more from what's already there."
Those that use technology to show recruiters the most valuable actions to take in the most valuable direction.
Running a successful business involves difficult decisions and having evidence to support those business-critical moves – changes everything.
It allows you to move at speed with confidence. It brings an unbiased ally into every conversation whether that's with consultants, clients or board members.
Using cube19 to identify profitable clients
How many staffing firms have an uneven relationship with their biggest enterprise accounts
The truth is that most do. Bigger businesses tend to know the value of what they bring and that often means they dictate their working terms and response rates.
It takes a lot of confidence to pull your recruiters and resources away from your biggest clients and move against conventional tides.
eHire did just that and substantially increased its revenue as a result.
"With cube19, we quickly identified two enterprise clients that were consistently four times less responsive than our benchmark. We stopped prioritizing their jobs, reallocated time and submittals to other enterprise accounts and created a 10% boost to our gross margins."
Empowering businesses to drill-down into a client's metrics from a few clicks and comparatively measure trends across accounts, allows staffing firms to see the reality of how their time is actually moving their bottom line.
Bringing client reviews forward with cube19
One of the biggest advantages that cube19 brings is the speed of awareness to move on poorly performing clients, consultants and job coverage.
"Nothing is more disheartening than looking back in hindsight and seeing waste. Seeing that you've submitted hundreds of candidates and made a handful of placements."
"Before cube19, we were lucky to review our clients bi-annually. Which is far too wide a window and prevented us from actively making changes."
"We've reduced that to quarterly, and intend on moving it forward to monthly for every client and each account so that we can move proactively with improvements."
"In the same vein, we're now two-steps ahead with every contractor and can proactively see start dates, last contact, those approaching assignment ends and those that aren't being redeployed."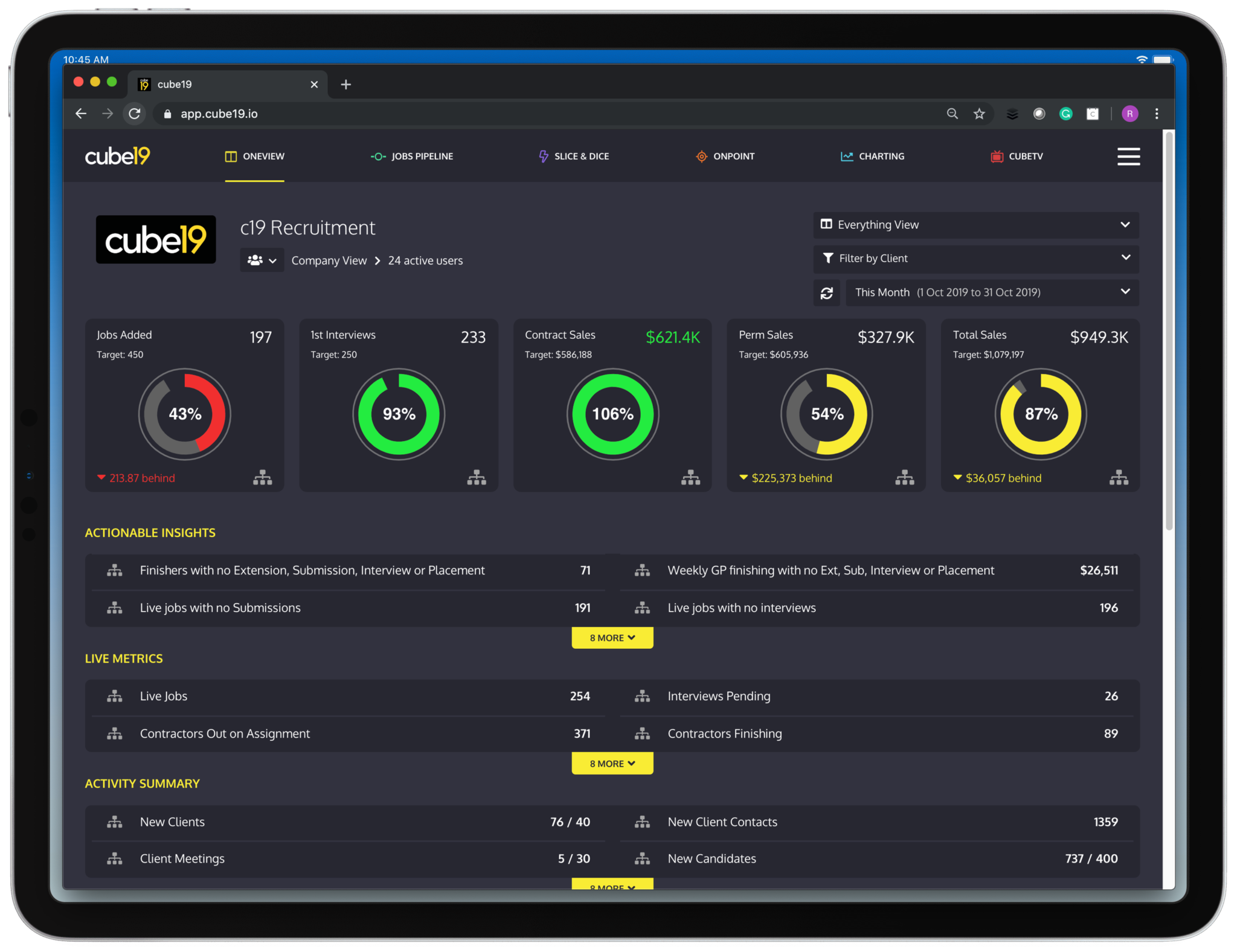 Using cube19 to arm staff with battle cards
Data is often used as the conversation starter for strategic decisions, but it can also be used as a conclusive statement for the more difficult ones.
When figures are presented in the right way they are hard to argue with. It brings evidence, accountability, and frames the truth for people in a way that people might not listen to otherwise.
Staffing firms are strategic partners to their clients. To do their job well, they rely on them to work with them on the briefs, be responsive, timely, and help improve the outputs by working together on the inputs.
However, they can often find that they're held at ransom in poor working relationships through the risk of losing business.
cube19 provided eHire with the data accountability to positively challenge their clients that might be neglecting their role in the process.
By documenting client performance and arming their consultants with battle cards and benchmarks, they could then go to clients with and drive better relationships.
The cards broke down the ratios, the response rates, and placements. It also showed how they measured comparatively in the market.
"When you can turn around to a client and go, look, these are the figures, your ratios, and here's how we can work better to move them… they listen.
The battle cards are also used in winning new business and breaking into PSLs because they carry a data signature of eHire's performance."
"It's proof that you can match a client's needs over and above their current process or competitors."
You're not convincing prospective clients with lip service, you're showing them that you've done this before and why you can do it better.
"We won several dev op clients recently by asking how their PSL was performing and lining competitors up like-for-like with our own fill rates."
"It's about confidence. You're showing your clients your process and a promise of delivery."
Building on the Bullhorn ecosystem with cube19
A short walk accompanied by an elevator ride and eHire can find themselves in the Bullhorn office.
They've previously been the poster boy for Bullhorn and were the first to test the Bullhorn One platform. It's with that in mind that the decision to partner with cube19 was such an easy one.
They wanted to get the best from Bullhorn, so they use cube19 to do that.
"The decision to implement cube19 was actually made during Bullhorn Engage and was a decision made with the wider tech ecosystem in mind."
When businesses invest in tech, even the best solution can derail the wider advantage if it's the wrong fit. You have to avoid building Frankenstein's Monster with your choice in tech.
"cube19 was an easy decision. It connects seamlessly within the Bullhorn ecosystem and is built with a wider technology solution in mind."
A longer shift with cube19
"Using cube19 saves myself, the Director of Enablement and Controller, 15 hours a week collectively in report building and analytics."
"Any business with a substantial volume of data will operate significantly better on a strategic level down to a person-to-person basis with cube19."
"I can't imagine doing what I need to do, even with a host of additional people. I'd not be able to match the speed and accuracy that it brings to the business."
"It's already paid for itself twice over in the first quarter."