Speed is one of the single biggest differentiators in business today. When your team is constantly wasting time gathering data they are losing their competitive edge. However, once your team can act on the insights that your data provides they are performing revenue-generating activities that provide your business with an advantage. To solve this conundrum we must neutralise the lag between needing data and act on its insights.
The key to this is making data self-serve and easy to understand so that everyone can act independently on the insights as they see them. This is essential for securing an insight-driven competitive edge across your organisation.
Executing Commercial Speed: From Data Delays to Instant Action
To reach the point of consistent commercial speed across your entire organisation is no small task. By dividing the end goal into three objectives we can create a manageable action plan for your business.
By automating the flow of critical real-time information in your business you can ultimately eliminate the traditional delays created by labour-intensive manual reporting and information that used to take months, weeks or even days to arrive appears in seconds.
As a recruitment leader, providing everyone in your company with self-serve, real-time, actionable insights is a sure fire way to gain competitive advantage. Whilst other recruitment businesses waste time gathering data, your people are taking instantaneous action through a repeatable, scalable process.
Capitalising on the benefits you have created by ensuring the fast flow of data in your business will provide insights that are contextually relevant and easy to understand so that your people can act independently on the data as they receive it.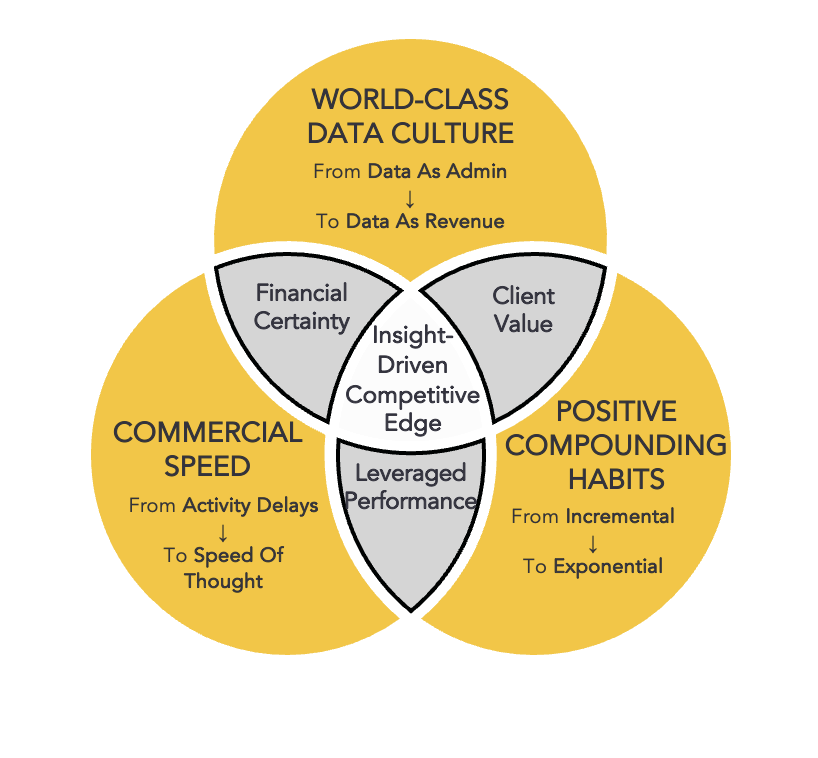 Automation
The recruitment industry is rightly embracing automation in all aspects of their business but, for many companies, labour-intensive manual tasks still play an unacceptably large part in their reporting and analytics process. This leads to incomplete, inaccurate and flawed datasets.
If you have systemic issues with your data quality, you're likely to end up making decisions based on flawed outcomes. Automating the processes surrounding data hygiene dramatically improves the quality of your data and enables you to get the most out of your investment into technology. Only through engaging with data can you improve your data quality and understand how to unlock the insights within.
Automating your staffing reporting ensures that your team consistently reap the benefits of fast decision making.
1 week after going live, Searchability signed a 3 year extension due to seeing the instant impact and cultural shift that giving everyone real-time visibility had on improving conversations across the whole business.
"Before cube19 I would give Bullhorn adoption across the company a 3/10 and now 8/10 just 3 months into using cube19.

The improved Bullhorn usage is due to improved visibility and transparency of data. Everyone now has access to automated valuable insights that help them work more efficiently. If it's not in cube19, it's not in Bullhorn. We can identify if data is missing in real-time so the team is encouraged to track their activity correctly at the time it happens. We can see where things are going well, and sometimes not so well, and more importantly, we can understand why."

Martin Blythe
Managing Director, Searchability
Actionable Insights
Every question you answer leads to further questions. The ability for your people to find the answers to their questions without relying on anyone else in your organisation and subsequently take independent action is key to unlocking the benefits of commercial speed.
Leveraging Actionable Insights allows you to better focus your team on quality over quantity in turn you can begin to:
Use your data to stop losing out to the competition and grow revenue
Show (don't tell) your people where the money-making opportunities are, right now.
Support your strategic and tactical business decisions with real-time data.
"Actionable insights from cube19 are the most useful tool a business with a defined sales model can have. They ensure the sales model is being worked by your people and the results are a by-product."

Nick Gatenby, L&D Manager
Source Technology
Easy to Understand
You can provide your consultants with all the information in the world, but if they don't understand it and they don't feel that it will be easy to leverage then they're never going to use it.
Consultants operate with a 'what's in it for me' mindset. Once you convince them that technology is their friend and biggest ally in making more placements and therefore, money, the adoption process becomes self-maintained
That's why it's crucial to streamline the process and allow them access to clients and talent pools they couldn't reach before.
Once you provide your team with intuitive every-device dashboards, they can focus all effort on the most profitable client actions. Removing time wasted on unprofitable unproductive tasks will allow you to consistently secure commercial speed across your entire organisation.
Ask yourself, how confident are you that:
Key information gets to the right person in an efficient and advantageous manner?
Every person on your team always knows exactly what actions to take to have the greatest impact on their performance?
Everybody in your business truly understands the data they are looking at and can act independently on it?
If your answer to any of these is anything other than "Extremely Confident", then it's definitely time to consider making a change in your business if you hope to achieve commercial speed.
If you'd like to find out more about the tools available to help you achieve commercial speed, get in touch.