Learn more about how cube19's latest feature, Charting, revolutionises the way you create, share, and visualise your reporting.
WHY DID WE CREATE CHARTING?
In short – we want cube19 to be able to answer any question that you have about your business, and for you to be able to visualise what's going on in your data.
Charting lets you easily display your recruitment company's data in a clear visual way. Quickly create charts based on key metrics that matter to your business, and get an overview of how individuals, teams, or offices are doing overtime.
Discover trends – pinpoint problem areas – and quickly find areas for improvement at a glance.
HOW IS CHARTING DIFFERENT?
You are probably familiar with Slice & Dice – one of our favourite ways to create reports. Whereas Slice & Dice allows you to build up a report and dig into the data that it's built on, Charting allows you to view and interpret trends in your data. This takes recruitment metrics to the next level, beautifully graphing them for you, so you can quickly see each metric's trend over time.
With this new feature, you have the ability to:
Easily analyse trends for multiple KPIs at once – ie. 1st Interviews and Total Sales.
Compare year on year trends for placements and KPIs
Compare data for different teams or users
Look at averages like never before. Average 5, 10, even 20 person teams' KPI's giving you fair comparisons
Easily resize reports for same page side-by-side comparisons
Save your frequently used reports for easy access
HOW TO SET UP CHARTING
cube19's new Charting feature is available for all cube19 users.
Follow the step-by-step instructions to set it up below:
1. Head to the dashboard menu and select Admin. You need to be an Admin to do this.
2. Assign users the right to use Charting.
Do this by clicking into Users on the left-hand menu and selecting the name of the team member you would like to give Charting to.
Scroll to the bottom of the team member's profile. You will see a variety of Permission checkboxes. Select Charting and save.
Charting will now be available in that user's drop-down menu on the top right-hand corner.
HOW TO RUN A REPORT
1. Select Charting from the drop-down menu in the top right-hand corner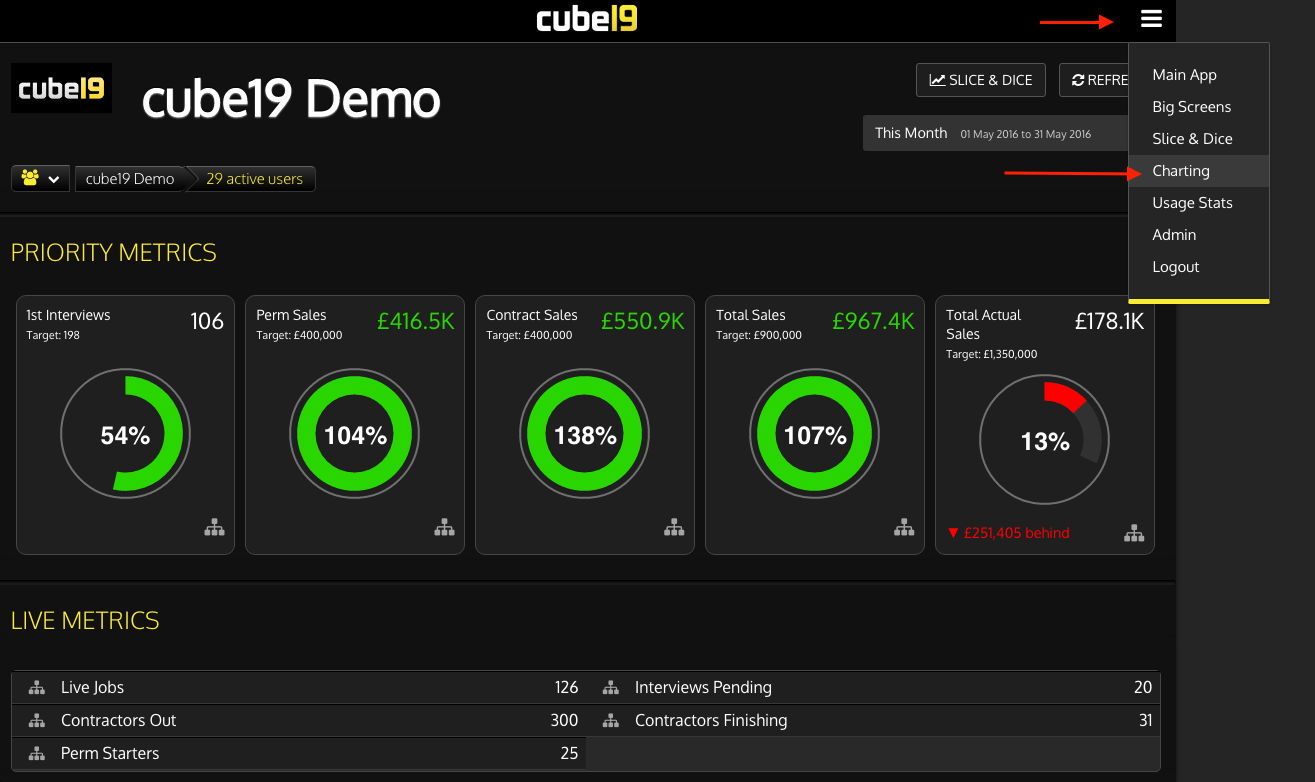 2. Select the time frame you would like to report on, and then select the metrics you would like to report on in the Select metrics field.
For this example, we selected 2 metrics to track over a 90 day period: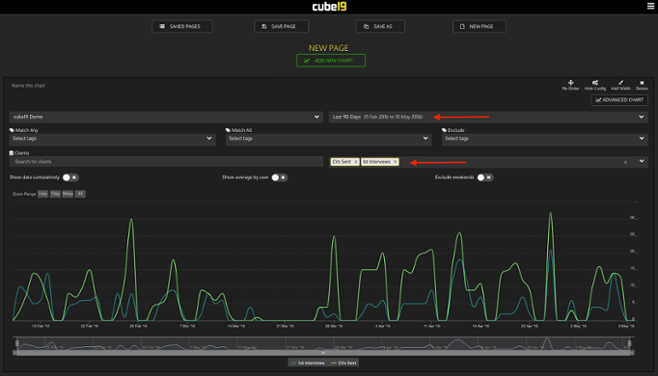 Adjust the time frame by moving the bar at the bottom of the page, the display will automatically reflect the new scale.
Click into the chart to see specific data points.
3. Name your report for future reference, and select Save.
4. Access your saved reports by selecting Saved Pages.
Set the chart to display each time you access your Charting home screen by clicking on the Home icon.

VISUALISING RECRUITMENT DATA BEAUTIFULLY OVER TIME
Charting allows for individual reporting in a beautiful, quick, and easy way. Simply select the recruitment metrics you want to view, and the time period to track their performance over, to elegantly display data for your team, investors, or clients.
Contact your cube19 Customer Success Manager for more tips on using Charting for your recruitment company.
Try charting today, and get creative with your reporting!