Data plays a huge role in the lives of recruiters. From new clients and 1st interviews to contractor redeployment rates, we are constantly interacting with different types of data to improve the success of our business.
Different roles in a recruitment business require different data to be recorded and that's long been a strong capability for the leading CRM's in recruitment.
Since we want cube19 customers to have the best real-time insights and performance metrics possible, no matter what hat you wear, we decided to develop an entirely new way for you to work with OneView.

Introducing OneView Pages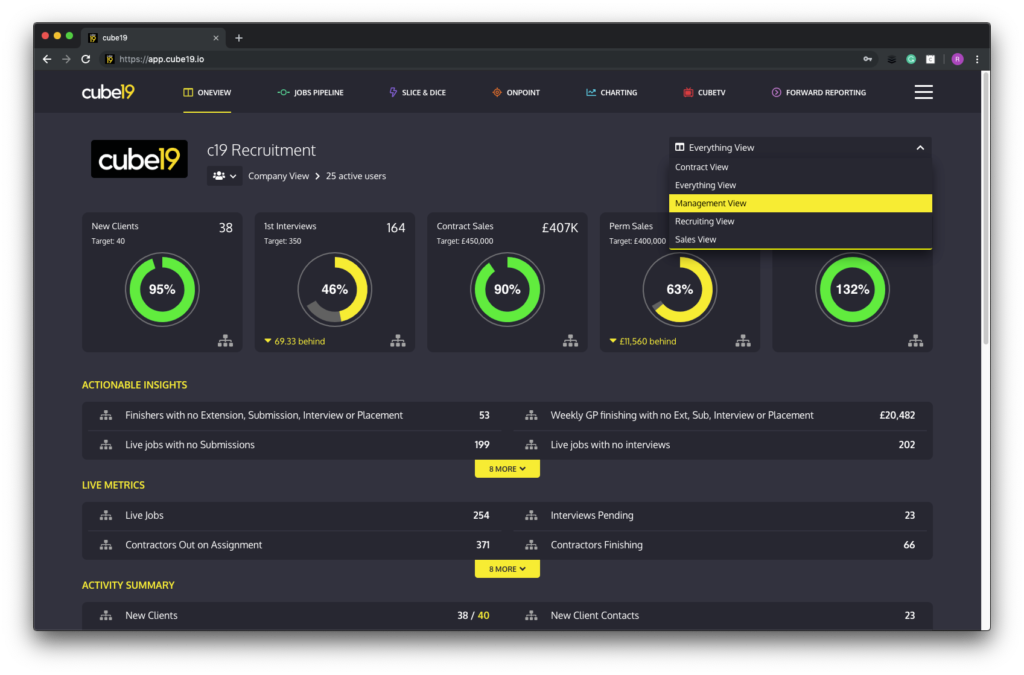 OneView Pages offers a whole new experience for every individual.
Whether you are a CEO, CFO, team leader, account manager, marketer or recruiter; you can now build your ultimate OneView page, containing data and metrics that are only relevant to you or your team!
OneView Pages allow you to cut through the noise of other data and focus on exactly what you need to do to hit your goals.
Some ideas from the cube19 team:
Create distinct OneView pages for your Contract and Perm business units
Dedicated OneView pages for your Energy Division or German Office
Design a high-level view for Directors and Owners which focuses on sales rather than activity
Build a page based on candidate generation metrics to help your most junior staff members
Grant senior users OneView Super-User permission, and they can switch between pages
New to cube19 and want to see our all-new OneView Pages in Action?
Book a no-obligation demo today→