We're very excited to launch Jobs Pipeline, the real-time configurable dashboard that helps recruiters and managers to identify where the best placement opportunities are. With Jobs Pipeline you gain clear visibility of all your live jobs, know exactly what stage you are at with each job and can easily see where you need to focus attention.
Bringing Your Jobs Pipeline to Life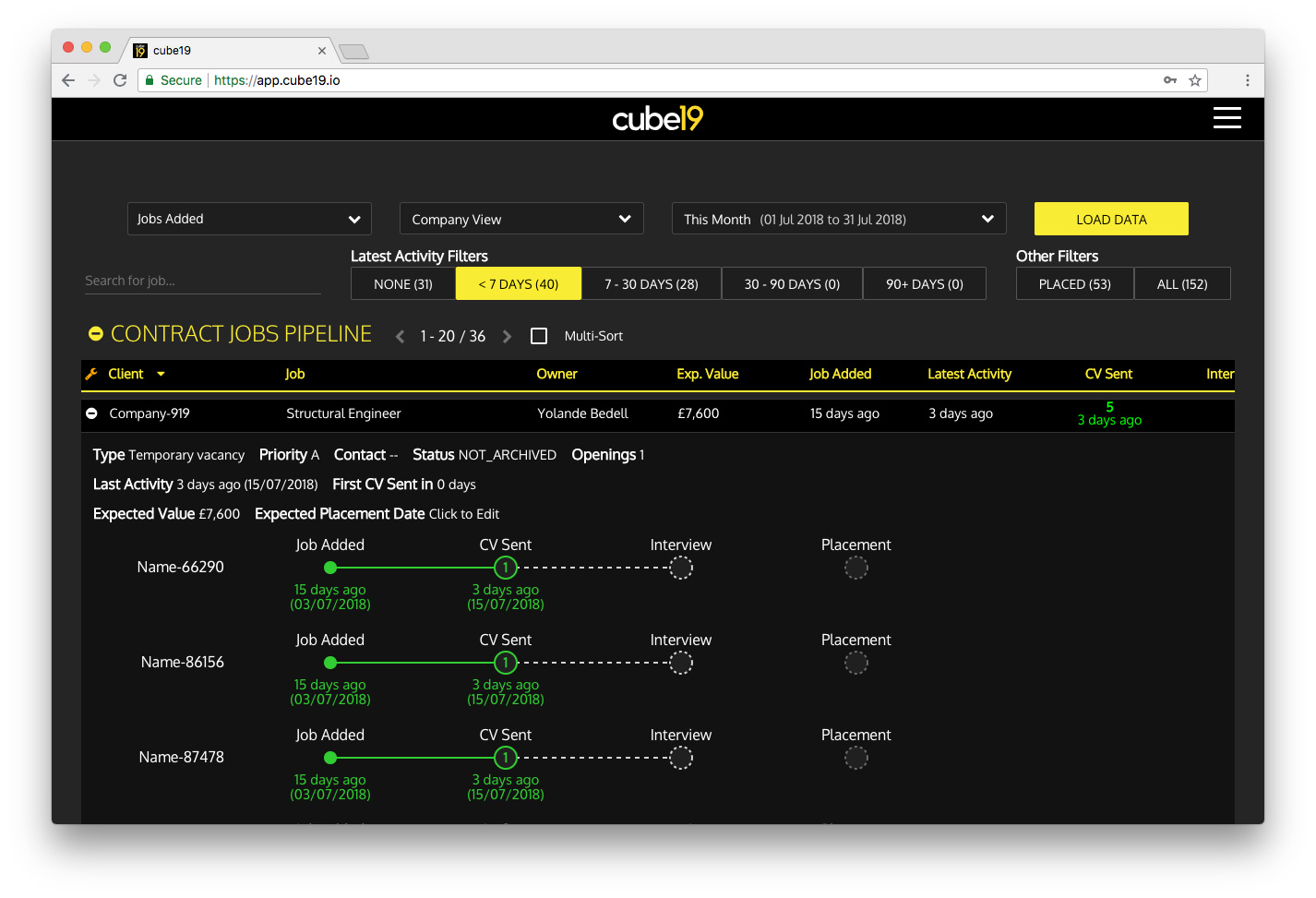 When talking to our customers about how their consultants managed their jobs, there were some consistent themes that came up:
Consultants often maintain spreadsheets of progress against jobs outside of Bullhorn
Consultants regularly spend a disproportionate amount of time on favoured job roles and clients at the expense of other opportunities.
At any given moment in time it's very difficult to know what effort is required across each open job – from both a management and individual consultant perspective.
Based on this, we came up our latest feature release – Jobs Pipeline – an easy way to see, in real-time, the status of every job being worked on, when they last had activity, and what the latest stage they've reached is.
"Jobs Pipeline from cube19 has transformed the way our consultants work by making it easy for them to see in-depth information about every job they are working in a single dashboard. The feature has made a massive difference because it's now impossible to miss or neglect opportunities without the consultant or our management team knowing! This is leading to increased productivty, billing and a greater focus on which clients and jobs to prioritise. All in all Jobs Pipeline is a fantastic addition to our Growth Analytics toolset."
James Burdis – Director of Operations, Hanover Recruitment
Adopting Jobs Pipeline throughout your recruitment business you should expect:
More productive consultants
More detailed and accurate meetings/appraisals
Better visibility of jobs being worked
Improved data quality
The functionality will be rolled out to customers over the following weeks.
Not using cube19?
Let us show you how to grow your recruitment agency with data at the center of your approach.