With the recent announcement of another national lockdown, 2021 hasn't got off to the flying start many of us had hoped for.
That being said entering a new year was never going to solve everything. The only way to change our results is to change our process, there's no sense in waiting until life is 'back to normal' to aim higher. Proactive business leaders are navigating their way towards success despite external challenges.
How you reacted was key to survival in 2020, but what if in 2021 you didn't have to react drastically to situations, because you had insights and knowledge ahead of time which allowed you to prepare for unforeseen circumstances and mitigate risk?
As we move into 2021 it's crucial for us to assess where we are within our business and where we want to be. Then we can begin to set realistic, actionable goals for the new year.
Data-driven recruitment agencies aren't working on surviving COVID-19 this year, they're setting ambitious goals and working towards them with an achievable, data-led action plan. So if your agencies 2021 business goals are also related to;
Increasing GP by head
Increasing fill rate
Increasing redeployment rates
Then it's definitely worth having a conversation with cube19 regarding your agency's potential for growth.
It's the time of the year for reflection, a chance to look at what went well, what didn't go so well and how we go into 2021 with the right strategy to increase Gross Profit.
We're no doubt going to pay for this downfall over the next year at least, and moving forward, there'll be no excuses for being unprepared.
cube19 can show you, your managers and most importantly your recruiters how to fill more jobs, redeploy more contractors, win more repeat business and onboard new recruiters faster, which significantly increases GP per head.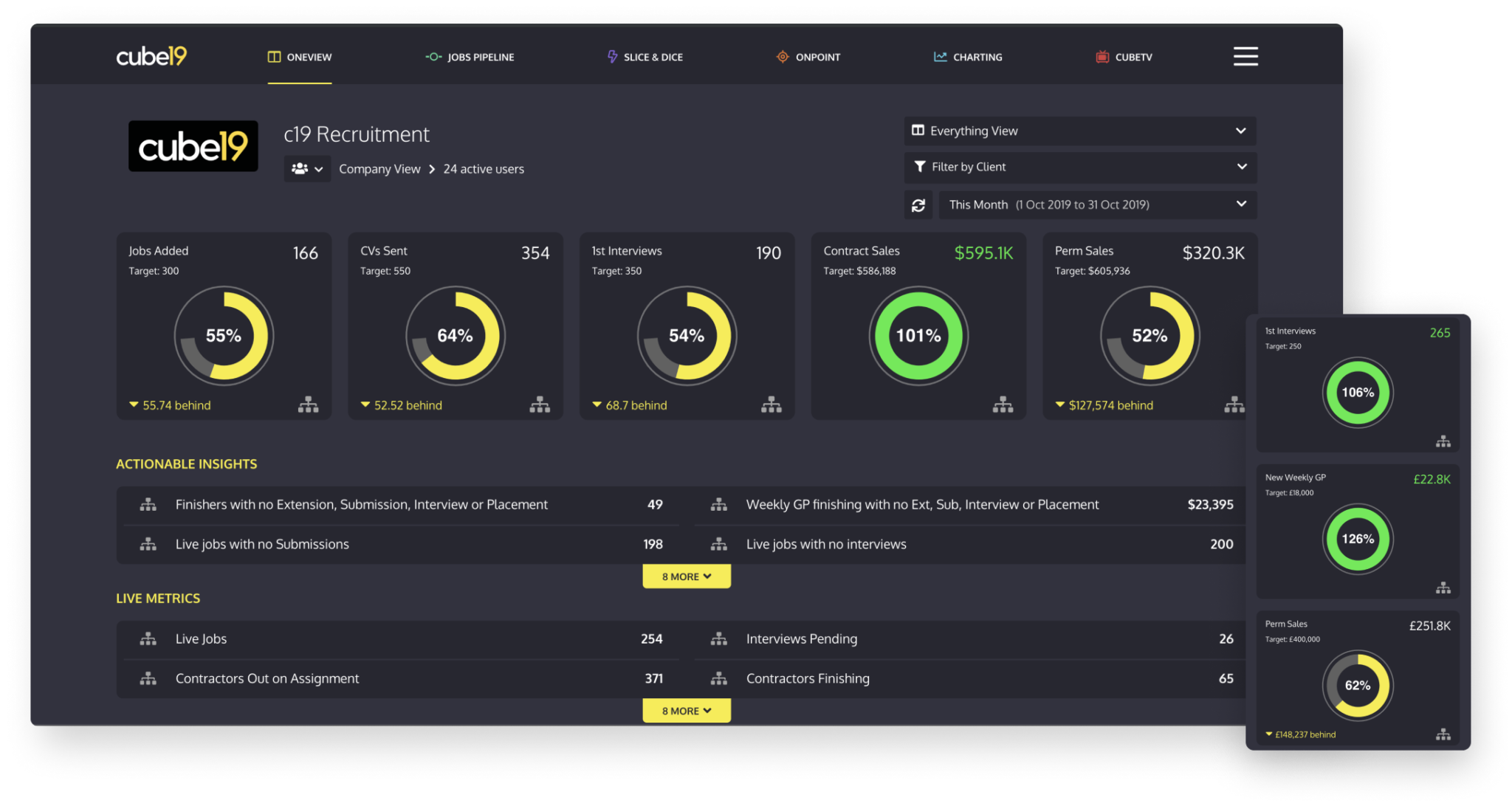 cube19 helps businesses not only report on activities but also provides business insights so you have the data to mitigate any risks and take advantage of any opportunities. It also offers a suite of gamification tools to help your staff remain productive and stay focused.
Due to COVID-19, we have had an influx of people desperate to unlock the insights into their business that they need to forward plan and back up their decisions with reliable data. However, now is unfortunately also a tough time for many businesses to justify investment into new tech.
That's why we decided to create cubeLite and cubeX. For a discounted user rate, you can now receive a compacted version of our data analytics platform to support your business through managing remote teams, increasing productivity and working towards your overall growth objectives.
Whether you are perm, contract, temp or retained, cube19 can streamline your business and give back time to yourself and your consultants. If you'd like a quick product demo, leave your details here and we'll get in touch.