Ricky Wheeler, Marketing Director and Tom Winslade, Enterprise Sales Manager from cube19 discussed how recruitment businesses can best prepare for the staffing industry bounce back and be ready for recovery in this recent webinar with our partner The Access Group.
Is a staffing industry bounce back realistic?
cube19 provide the data for the monthly APSCo Trend Snapshot, which you can download here. The report shows that the bounce back is in motion. The latest update showed that job opportunities for the professional sector were up month on month in June, with permanent and contract vacancies increasing 38% and 31% respectively, marking the first positive signs for professional recruitment since the crisis began.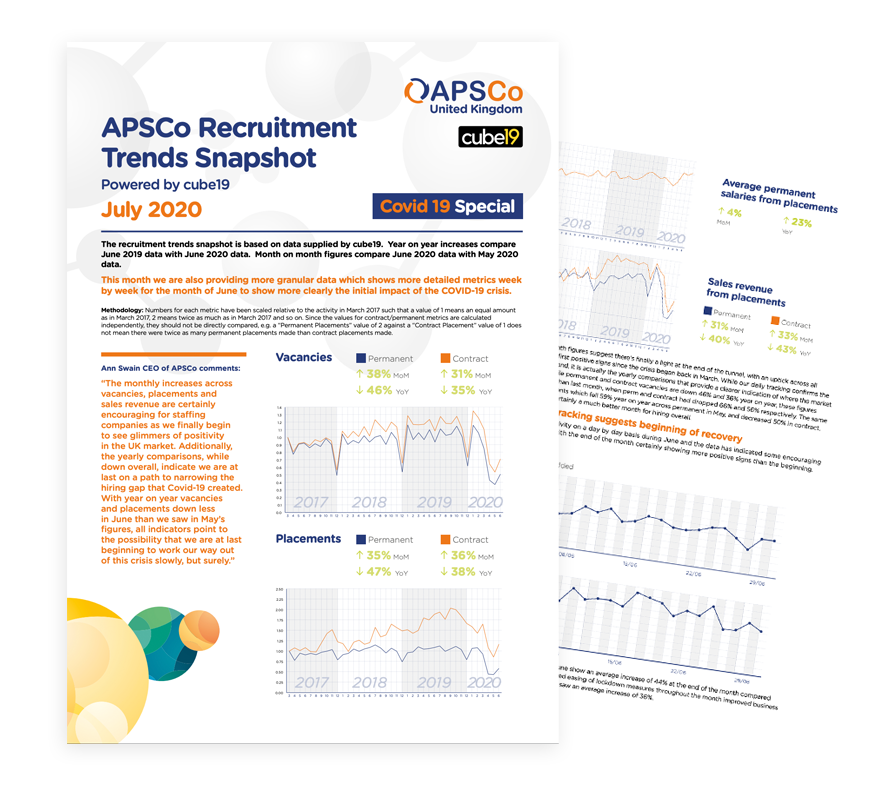 Considering the broader recruitment sector, the furlough scheme has certainly been successful in preventing mass unemployment.
By understanding the insights within your data, you will be in a healthier position than your competition and therefore more likely to capitalise on the downturn; able to return skilled team members at the right time to excel in the right roles.
Is it as simple as looking at vacancies added to spot a bounce back?
No. Focusing only on data surrounding vacancies could create a false image of your businesses position. Yes, vacancies do provide you with some insight, but would certainly be far from the full picture. What if roles were being advertised to build a candidate pipeline?
Instead, you could begin to analyse the skills of candidates you've placed historically. The pandemic has created new roles and placed higher importance on roles that previously were seen as requiring low skill. Are the skills of your candidates transferable?
When it comes to analysing your position as a business, you shouldn't look at one specific metric, the broader picture is much more reliable.
How do cube19 customers use data to drive these types of strategic decisions?
cube19 customer Triple Crown shared the importance that data has had on their business throughout Covid-19.
Without cube19 Triple Crown would have laid off 20% of their business in an impulsive, emotional decision at the beginning of the downturn. However, their data showed them that things weren't actually as bad as they seemed.
They used data-driven insight to understand their business impact and subsequently were able to refocus their workforce to maximise jobs they were working and generate revenue in diversified areas.
Emotional decisions create fear and distrust – having the data in real-time to make the best decision possible, whilst removing the emotion from situations and focusing solely on fact is crucial to motivating your team, and running a successful business.
Data is an inarguable fact that you simply can't ignore.
How important is the technology aspect of recruiting for the future of the staffing industry?
Investment in technology is going to be fundamental to businesses hitting their growth objectives. You must align your tech stack with your growth objectives.
Researching, investing in and implementing innovative technology is important, however, it is not a silver bullet. When you invest in technology you must also have an extensive adoption strategy to ensure that everyone is aligned in terms of the value the solution brings across the business.
Overwhelmed consultants won't engage with the change in management process and therefore create reduced ROI.
It's not about delivering everything on day one – it's about delivering the right thing at the right time.
You must educate and assist the user community in your business so they understand why you are making the decisions that you are making.
What would be your advice to companies just starting their data journey?
"Don't try and do too much too quickly, understand the data points for today and drive adoption in the CRM around that. Have one eye on the future at the same time.

Your technology is going to evolve quickly and your business will evolve with it because you can begin to make strategic decisions."

Tom Winslade, Enterprise Sales Manager
"Recording data is not a chore, it's a fundamental part of running a successful business.

If you want to grow, sell and excel in your industry, high quality, real-time data is key."

Ricky Wheeler, Marketing Director
How will cube19 use your own data to make future decisions and build opportunities from the staffing industry bounce back?
If you focus the right effort on the right people and build trustworthy, quality relationships in times like this then you're prepared for the bounceback by setting yourself up to be the person they want to do business with post-recovery.
Taking the approach of empathy with your prospect base and taking time to understand and offer helpful advice and guidance has huge value.