Of all the advances in tech that are changing recruitment, none divide the immediate lanes of competition more than automation.
Over the next few years, we'll see agencies harnessing recruitment automation to:
Automate the repeatable
Redeploy low-value-high-volume actions into high-value-human-touch
Produce more with less headcount
Deliver faster with the headcount they have
Simplify their processes and create scalable operations
Future proof their superior service over in-house resources
It's not a new concept and vendors have been pushing automation for years now, but two changes have happened.
Advancements in tech have brought automation and connected automation to almost every corner of the recruitment process.
The absence of automation has compounded to become significantly evident in revenue, performance, and the creation of a competitive service.
Top-performing agencies shifted their mindsets from doing more, to ask how they can do things better, smarter, and more efficiently – how they can change the inputs that drive the outputs.
Agencies should be identifying the most valuable actions everyone can focus on and how leveraging automation can make that possible.
Contents
What is recruitment automation?
Bullhorn says it's anything that enables you to streamline repetitive workflows, processes, and communication across the entire recruiting cycle to ultimately improve bottom and top-line growth.
Everything from multi-job-posting to social posting, CV parsing to report building, email sequencing, removing bias, feedback loops, updating the ATS, signposting your next activity, and everything in between.
Search, screen, interview, process, nurture, close, onboard, accelerate, measure, report, analysis, revise.
Accelerating Recruitment Automation / Flywheel
When agencies can measure and improve every single facet of their operation they can create a system of continuous improvement.
Recruitment automation is the balm to what Einstein would call insanity. Doing the same thing, again and again, and expecting improvements.
Vendors are now doubling down on technology that automates the necessary, menial, and repeatable tasks so recruiters can refocus their resources on the high-value areas that their expertise can actually affect the outcome of.
"Automating routine tasks like sending emails, writing text messages, updating records, launching surveys, adding notes and other menial tasks save an average of 3.2 hours per day per employee."

Bullhorn.com
The likes of Broadbean and Daxtra have been around since the early 2000s and reimagined the entire way we post jobs and parse CVs.
In recent years the explosive growth of recruitment automation arrivals like Herefish by Bullhorn is a testament to the market demand and advance.
Herefish highlight their top 5 benefits of recruitment automation as:
Increased productivity
Improved quality of hire
Enhanced candidate experience
Bias-free hiring
Reduced time to hire
To give a scale of how revolutionary automation is, Ideal estimate that fourteen hours a week per person is lost on manually completing tasks, and costs businesses 41% in productivity, 35% increase in costs and a 17% hit in candidate experience
Credit to Bullhorn for distilling the figures, but consider that saving one hour each day equates to 260 hours per year, per employee!
Multiply that across fifty recruiters, salespeople, analysts, managers, or marketers and you're looking at 13,000 hours saved each year – minimum.
That's time that could be redeployed into building relationships, managing client accounts, prepping candidates, analysing, strategizing, creating, and building better efficiencies.
What is the hardest thing to automate in a recruitment business?
Automating simple and isolated tasks to free up time isn't a challenging process.
However, when staffing agencies move to connect a more complicated automated workflow across multiple stages, departments, and scales, there's inevitably going to be some friction.
We canvassed agency owners and vendors in the recruitment industry to see what they feel is the hardest thing to automate.
"The human element of recruitment; listening, empathy, spotting buying signals, giving honest feedback, advising on interviews, closing an offer, dealing with the counter offer etc."

Howard Greenwood, Recruitment advisor and business coach, Jump Advisory Group.
"Candidate feedback – I think the human touch is needed to get it right. An email will only get you so far."

Darren Westall, CEO, Paiger.
"Admittedly it's not hard to automate, but for me good quality and respectful communication of interview feedback and rejections is something our industry often automates badly."

David Bancroft, Technology Recruitment Partner, Tech 23.
What's clear is that the necessary human engagements in recruitment can't be replicated or automated to the same quality that a real person and a real relationship can deliver.
So, where do you begin? Start by asking yourself: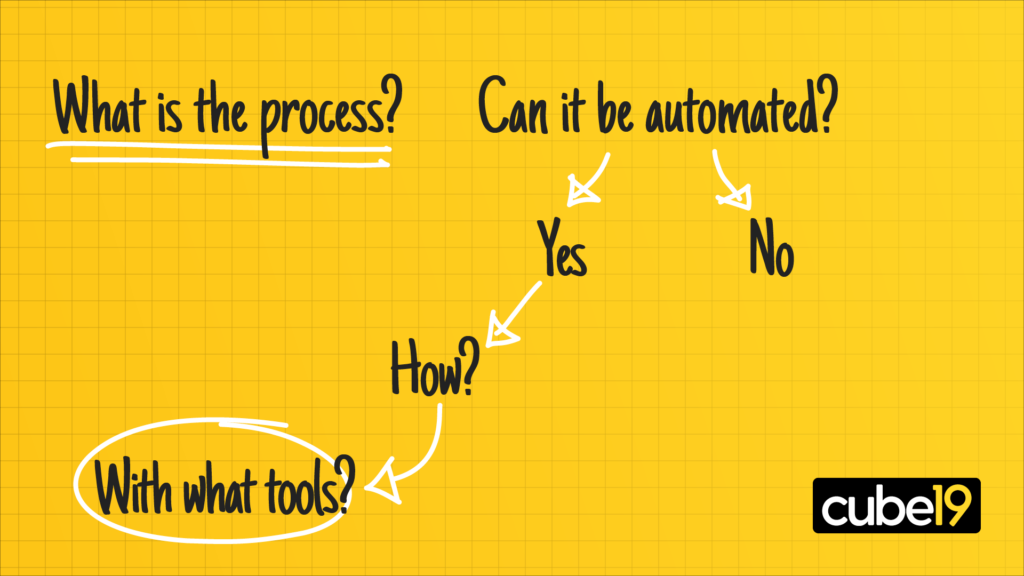 Then map out and document your current end-to-end process. We've charted a standard perm workflow as an example: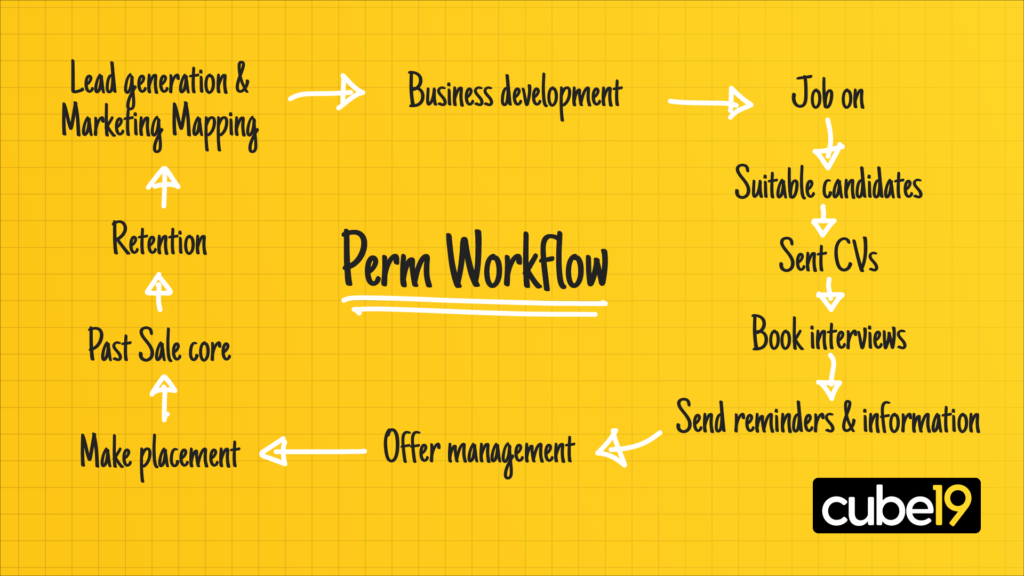 Next, apply the initial flow chart to each segment and ask yourself, what could you automate, how, and which tools would you use?
Job on
LinkedIn for candidate matching.
TextKernel and Sourcebreaker to automatically add and shortlist suitable candidates
Herefish to automate candidate outreach tasks like mailers with previous candidates
cube19 to prioritise profitable or at-risk jobs with too little activity and calculate the value of jobs and how that tracks against pipeline and targets.
Booking interviews
cube19 to track and alert customized metrics like CVs sent without feedback or interviews with a client not chased
cube19 working with Herefish to signal when to prep, debrief, and redeploy clients and candidates and automate that initial engagement.
Herefish's 3DIQ tool to identify best candidates for feedback and automate client feedback loops
Herefish to automate appointment confirmations, interview reminders, prep emails, text reminders, address etc. for candidate and client with Herefish
Start date
Herefish to schedule texts, calls, or emails across start dates, check-ins, and renewals.
cube19 and Herefish collectively to alert your team to contractors approaching extensions or contract finishing and initiate the process of redeployment
What are the best recruitment automation software tools?
The industry is filled with platforms and tools that have the power to change the way you work, but their ability to work relies on those in the saddle driving them.
We put it to the recruiters on the tools to see which is the best piece of automation tech they have in their stack. Nominations included:
| | |
| --- | --- |
| Solution | What do they do? |
| Odro | Developed specifically for recruitment agencies, Odro is the most powerful all-in-one video interviewing and engagement solution available on the market. Designed to help agencies increase revenues, with Odro at their fingertips your recruiters will engage more talent, reduce time to hire and, most importantly, win more business. |
| Herefish | Herefish was built for staffing and integrates with top applicant tracking systems. Automate tasks for old and incoming data alike and never miss a beat.Automate recruiting busywork in a few clicksPersonalised outreach via email and textCollect continuous feedback |
| TextKernel | Textkernel works with staffing and recruitment organizations worldwide to implement the latest in AI-powered technology that can drive more business efficiencies and effectiveness. Staffing customers turn to them to help address issues including:How to source and match candidates and jobs with ever greater speed and accuracyIdentify open vacancies to reverse match jobs to candidatesCapture internal knowledge and domain expertise to ensure greater effectiveness across the organisation |
| Kyloe | Automate your workflows and processes across the recruiting lifecycle, and add validations to ensure compliance and correct placements (and keep your Finance, Legal, and Compliance teams happy!). All of Kyloe's solutions are built with recruitment in mind, requiring less manual work and resulting in increased productivity and revenue. |
| cube19 | cube19 provides visibility of how activity & performance at desk level translates to objectives & forecasts in real-time. Through automation cube19 removes the delays in weekly report-building and saves hundreds of hours in monthly labour costs and specialist hires. |
| Power Automate | Streamline repetitive tasks and paperless processes with Microsoft Power Automate – so you can focus your attention where it's needed most. Build time-saving workflows into everything from individual tasks to large-scale systems with seamless integration using hundreds of pre-built connectors. Enable everyone to build secure workflows with a low-code, no-code guided experience to automate mundane everyday tasks with robotic process automation (RPA). Automate time-consuming manual tasks with built-in AI capabilities, giving you more time to focus on strategic, high-value opportunities. |
| Sourcebreaker | SourceBreaker's AI matching automation technology finds you the best talent first, keeping you ahead in a highly competitive market. With up-to-the-minute intelligence on salary trends, market/company news and funding data, you will be in a position to better influence every interaction you have with both candidates and hiring managers. |
4. Who should be responsible for implementing and managing automation in a recruitment business?
Understanding, implementing and adopting automation should be a collective effort that starts culturally at the very top, but provides an overview at every seam of your operation.
However, it's vital to establish at least one accountable figurehead that's responsible for spearheading tech deployment and that adoption is layered into your onboarding, processes, and KPIs.
Who should that person be?
Someone who knows the business inside out and understands the needs and goals of each team and department.
Someone who has the authority and comms to put tactics into place for the benefit of the whole group.
Someone who can dedicate the time and resource that it deserves.
Someone who appreciates the potential of a seamless tech stack and how informed automation can accelerate universal processes and outputs.
Ideally, this is all the same person, but as long as every box is ticked by someone then you can be confident that automation can be done right."

Joe Buckley, Customer Analytics Manager, cube19.
By assigning the role of technology automation to an individual, or team, depending on the size of your organisation.
You can rest assured that your tech stack is being structured to create the mechanics of continuous improvement and optimizing your efficiencies at every stage.
"In The Panel we have a team that reviews all tech and two people who manage user adoption. I think management needs to be seen to lead on this, but everyone in your business should embrace automation, so user adoption is encouraged and facilitated."

Paul McArdle, Director, The Panel Search.
By assigning the role to a single person do you lose the average recruiter's attention?
The short answer is no. The role of the automation manager is to ensure everything runs smoothly to motivate the team to use the solutions and support them with any questions or technical adjustments.
Adoption and morale dramatically improve when your systems are managed and consultants get clear visibility of 'what's in it for them' and feel the results at desk level. If they can see its benefit, then it's going to breed further engagement.
To summarise, automation has been around forever but its connected advantage and adoption will dramatically divide the competition over the next two years.
The sheer scale of timesaving, efficient use of resources, and scalability is unignorable for staffing companies serious about growth and performance.
You may already be familiar with the tools we've mentioned and thought about the next process to automate, or there are a series of small automations across your organisation that will deliver large improvements. Either way, a little help goes a long way, best of luck on your automation journey!