Just when you thought cube19 couldn't get any more awesome, we've gone and made it easier to answer questions with data.
We give you Tags.
WHY DID WE CREATE TAGS?
In short – we want cube19 to be able to answer any question that you have about your business.
For example: Let's say you've got 25 recruitment consultants at varying levels of experience. Some are top-notch talents, some manage teams, and some are brand new grads with a whole lot of gumption. You know some of the new hires will become great, and others, well… maybe they'll need a bit more help along the way. You think to yourself, "How do I set the bar for new grads?". In other words, what targets can I use as benchmarks that indicate whether a grad is above average, average, or something else?
Well, you've got data, so let's use it.
Take a look at today's top performers who were once fresh new grads themselves. What activities did they do in their first 6 months with the business (recruitment performance metrics)? What were their conversion rates (recruitment performance efficiency metrics)?
With tags, you can segment that data from just those top consultants, over the correct periods of time for each, and use those numbers as the benchmarks you're looking for!
Tags give you the power to segment your recruitment CRM data however you want.
Imagine categorising your user-generated data based on:
Industry or Vertical
Experience Level of Your Consultants
Office Location
Job Role
The team they were on
Over different periods of time
Any Category You Desire….
HOW ARE TAGS DIFFERENT?
Tags is a Slice & Dice feature designed to give you even more flexibility in reporting and allows you to dive into your data even faster. Tags break free of the hierarchical structures of Slice & Dice's standard reporting, to customise reporting to fit your company's individual needs.
For example, imagine a recruitment company with three offices, with a perm team in each office. With Tags, you can identify perm teams and perm team members, then run reports that separate their data from your contract or temp business, across all your separate offices.
Additionally, for recruitment companies who operate in different sectors, admins can tag each team member with the industry sector they work in. A report can then be run on a specific sector to better understand which industry sector is growing or declining. This allows for data-driven decision making and assists with the allocation of resources across the company.
Use the Tag feature to report on virtually any combo of data – from how your new hires are stacking up against each other, to how different teams within the same office are performing, all without having to manually select or deselect the data.
Using Tags to Segment Recruitment Data
HOW TO SET UP TAGS
cube19's new Tags feature is available for anyone on cube19's Enterprise Package, or anyone using the Slice & Dice reporting feature.
Follow the step-by-step instructions to set up Tags below:
1. Head to the dashboard menu and select Admin. You need to be an Admin to do this.
2. Assign users the right to manage Tags.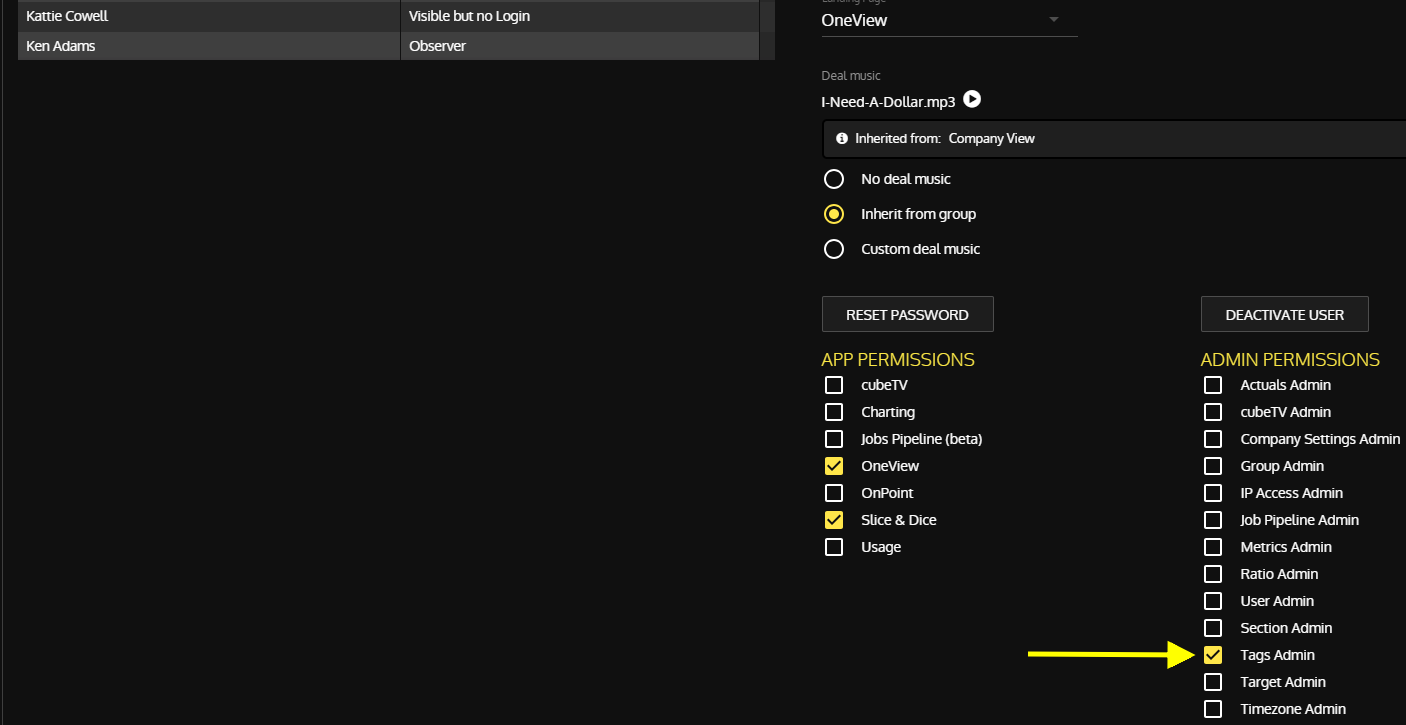 Do this by clicking into Users on the left-hand menu and selecting the name of the team member you would like to give this admin privilege to.
Scroll to the bottom of the team member's profile. You will see a variety of Admin Permission check boxes. Select Tags Admin and save.
3. Scroll to the top of the page, and back to the admin menu on the left-hand side. Select Tags. You will see three sub-categories, Tags Management, Assign Tags, and Bulk Update.

Select Tags Management.
In the Tags Management section, adjust Tags based on categories relevant to your business.
Think about Tags like this: Tag Categories are like a folder, and Tags are like the files in that folder. You'll use Tags to segment your data, and Tag Categories to keep your tags organised.
Add categories like job roles, industry sectors, geographical regions, and experience level – get creative and add whatever is important for your company!
Enter a New Tag Category and select Create Category to add new Tag Categories like Geographical Region or Industry Sector.
Enter a New Tag and select Create Tag to add new Tags within a Tag Category – like New York, Singapore, or London.
4. Next, head to the Assign Tags sub-menu to assign individuals or groups to the Tags you have just created.
Select the user or group you would like to assign a tag to.
Select Add Tag to create a new tag, and add specific attributes by clicking into the Tag section below.
For example, create a tag for all of your London office Perm team members.
Assign a start date and end date (if you want one) for the tag, and save.
Now you're ready to run a report using Tags!
Follow the step-by-step instructions below to run your first report.
HOW TO RUN A REPORT USING TAGS
1. Tags is a feature of Slice & Dice reporting. To access Tags, click into Slice & Dice.
2. Select the metrics you would like to report on in the Select metrics for report field.
For this example, we selected 5 metrics to track:
1st Interviews
CVs Sent
Jobs Added
Total Placements
Total Sales
3. Once your metrics are selected, click Generate Report.
Drag and Drop the Owner category to display each individual team member's performance.
4. Head back to the top of the page to dig deeper into elements like specific vertical and geographical location.
This is where it gets fun!
Check out the new second row we've added to the Slice & Dice reporting page. This is your Tags row, where you can add tags to filter your report even further.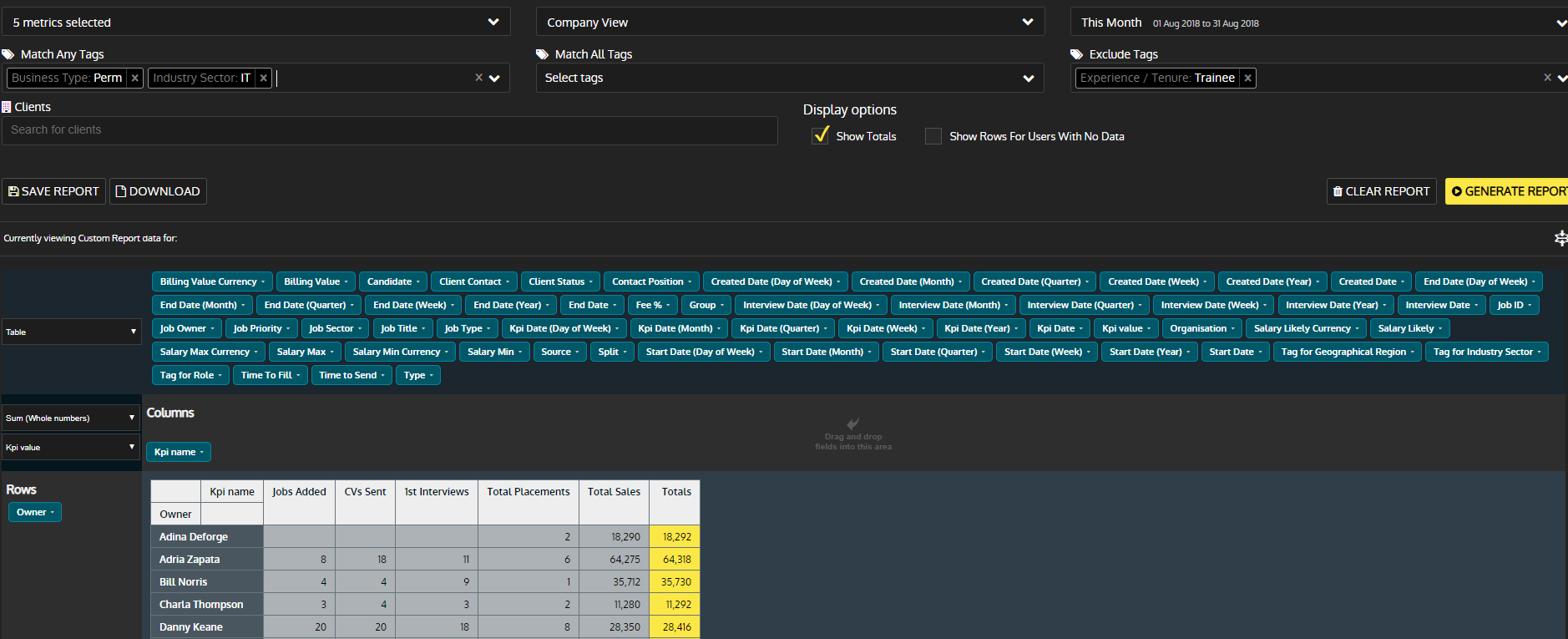 In the Match Any field – multi-select the Tag categories you would like.
For example:
Role: Senior Consultant
Role: Resourcer
Role: Consultant
Further, narrow down your search using the Match All field
For example:
Industry Sector: IT
Exclude team members or categories with the Exclude field
For example:
Experience/Tenure: Probation
5. Select Generate Report to update your report based on your selected Tags.
As you can see, the new report is much smaller, narrowed down to the data specified by your selected tags. If you have a large dataset, then using tags to segment recruitment data before generating your report will generate it faster.
THE BEAUTY OF GROWTH ANALYTICS FOR SEGMENTING RECRUITMENT DATA
The beauty of Tags is the quick, on-the-fly, ability to filter down to exactly the reporting you want, without having to manually exclude or include individual categories and team members. Tags enhance the bespoke nature of Slice & Dice, even more.
Take your reporting to a Cubester-approved next level with Tags!
Contact your cube19 Customer Success Manager for more ideas on using Tags to segment recruitment data for your business.